Opinion: Minorities are underrepresented in study abroad programs
Diversity in studying abroad is not as prevalent as it should be. If America is a melting pot, then why do the faces of study abroad in America all look the same?
In our globalized society, American college grads — especially minorities — are lacking crucial international experience and second language skills.
The majority of American students that do not have international experience identify as students of color, males, LGBT, those with high financial need, first generation college students, science, technology, engineering and math majors.
According to a report from the Institute of International Education, 84.3 percent of U.S. students who studied abroad during the 2012-2013 school year were Caucasian. In addition, only 34.7 percent of males study abroad.
According to "Going Global: Understanding the Choice Process of the Intent to Study Abroad," Asian Americans are 15 percent less likely to study abroad than whites. Students who receive federal aid are 11 percent less likely to intend to study abroad based on this study, and first generation students are 5 percent less likely to intend to study abroad. This becomes a hindrance when competing for jobs both here and abroad.
According to a study by IES Abroad, 90 percent of its study abroad alumni found their first job within six months of graduating, compared to the 49 percent college undergrad average. In addition, the college grads with international experience earned $7,000 more in starting salaries than their peers.
This semester, I applied to study abroad in Ecuador. Being that I am a first-generation college student, a black female from a lower-middle class family and have never travelled outside the country, the thought was initially daunting.
However, I happen to be a very determined young woman, which is how I found out about Diversity Abroad, an organization whose mission is to help underrepresented students study abroad by breaking down barriers related to fear, financial need, family and academics.
As of 2014, only one percent of students from the U.S. study abroad each year, according to the National Association of Foreign Student Advisors: Association of International Educators. The percent of minority, low-income, STEM major and males who go abroad is even lower. The goal of Diversity Abroad is to increase these numbers.
The Center for International Education here at Loyola works with the organization to advocate for underrepresented students to study in foreign countries.
For example LGBT students may think they cannot study abroad due to the fear that their sexuality will be not accepted because it is illegal in certain places.
STEM majors may fear they cannot complete the requirements for their curriculum or that they cannot learn from foreign professors because they will not be able to understand their classes in a foreign language.
Diversity Abroad works with students to dissuade these fears.
In America, it seems that students from low-income families are underrepresented abroad because income seems to heavily influence the choices we make, even though students from low-income families from other countries are able to make study abroad happen.
In 2013, the number of students from China, South Korea and India that participated in study abroad programs in America jumped 21 percent.
According to a survey by Perking University, the annual family income for families in China in 2013 was about $2,100. The Census Bureau reported that the average American income was $51,900 in 2013.
If they can do it, why can't we?
The truth is you are cheating yourself out of getting the most out of your college degree if you do not try to not push yourself outside your comfort zone, expand your worldview, see the world, acquire new skills, earn more money and grow as an individual through study abroad. After all, a lot of these reasons are why you are in college in the first place.
The Institute for International Education is campaigning to double the number of American students studying abroad from 600,000 in 2012 to 1,200,000 by 2017.
I believe that we can make our generation, the "Study Abroad Generation."
All we need is a little determination.
About the Writer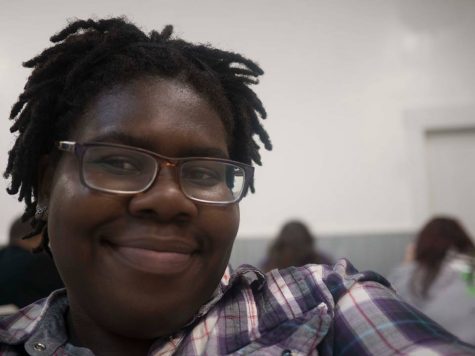 Alliciyia George, Video Producer
Alliciyia George is the Video Producer for The Maroon and Maroon Minute. Previously, she worked at The Maroon as Senior Staff Photographer and as a contributing...