Get Stung
Student balances school and dancing for the NBA Hornets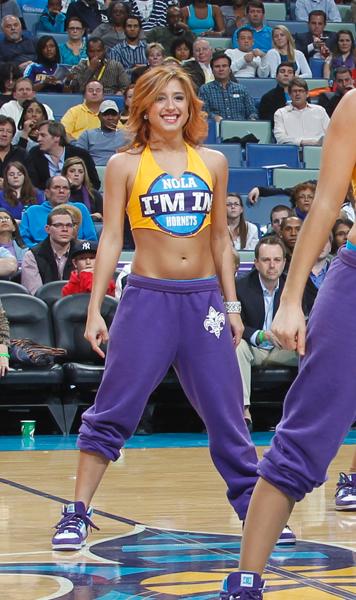 While many students are dancing at The Boot on Friday nights, Lynn Kleinberger is dancing in front of the crowd at New Orleans Hornets' basketball games.
Kleinberger, psychology junior, is a Honeybee cheerleader for the New Orleans' Hornets. Since last July, Kleinberger has been spending 20 to 30 hours a week in games, practices and appearances, all while remaining a full-time student at Loyola.
"I'm taking 12 hours, and I have this full time job, but I've learned how to manage everything. It doesn't leave much time for a social life, but that's not really an issue. I'm pretty much always busy," Kleinberger said.
But Kleinberger, who has been taking dance lessons since she was two years old, isn't a stranger to hard work. She tried out to be a Honeybee twice before she made the team.
"The first year I found out about it two days before the audition, so I obviously didn't make the team. But I just worked harder and harder every year until I made it. Last year I made finals but then didn't make it. This time I worked like, 20 times harder than the past years," Kleinberger said.
Kleinberger said her older sister Niki, who recently graduated from Tulane as a dance major, was the reason she was inspired to try out in the first place.
"My sister was the one who encouraged me to do it," she said. "She definitely was my support system for all of this, pushing me to do it again and again. I probably wouldn't have even heard of the Honeybees if it wasn't for her."
On a typical weekday, Kleinberger starts off with class at either 9:30 a.m. or 10:30 a.m. She then works out at the Rec Plex for an hour and heads to her next class. Each evening, she attends either a game or practice. Once she is home for the night, she hits the books, goes to bed and starts the cycle all over again. On weekends, Kleinberger also has service learning and, depending on the game schedule, may have practices, games or appearances at least one day of the weekend as well.
Each practice lasts for four hours at a time, two to three nights a week. During this time, the Honeybees begin with an intense strength and endurance workout with the Hornets' trainers. Then, the group practices or learns new dances to perform at games and appearances.
"If you aren't consistently working out, you can tell; you get tired earlier, you aren't going as hard. I have definitely never been this fit," Kleinberger said.
Despite the rigorous schedule, Kleinberger has stayed grounded.
"In all honesty, I've been making better grades this year than I have in my entire college career," she said.
Kleinberger isn't the only Honeybee who is also a student. Of the 22 members of the team, about half of them are enrolled as full-time college students, though Kleinberger is the only member from Loyola.
"Being with the girls all the time, you become really close. We all get along. I feel like I could pretty much talk to all of them about anything. It's definitely a family atmosphere," Kleinberger said.
Despite their affiliation with the Hornets, however, Kleinberger said that Honeybees are not allowed to hang out with Hornets players.
"It's in our contract that we can't talk to players, but it really just works out on both ends and takes away any sort of conflict," she said.
In addition to getting paid for practices, games and appearances, Honeybees are offered various other perks as well. Each dancer is given two free tickets to every game and gets to have her hair and makeup done for every event. But the experience as a whole, Kleinberger says, is what has made her run as a Honeybee so special.
"I'll definitely always remember being an NBA cheerleader. It's been the most fun time of my life. I've always loved performing and dancing in front of an audience, so the fact that I'm getting paid to do exactly what I've wanted to do my entire life is a dream come true. It's been worth all the hard work," Kleinberger said.
Shannon Donaldson can be reached at