More than Pretty
Hang on for a minute...we're trying to find some more stories you might like.
The idiom "wears a lot of hats" does not even begin to describe the various roles that Candice Bennatt has played because she, in fact, wears crowns.
Bennatt, 26, competed in the 2015 Miss USA Pageant on July 12 in Baton Rouge, Louisiana. Making it to the top 10 was an awarding accomplishment for the former NFL cheerleader, Miss America competitor and current full-time Loyola law student.
"I had never competed within the Miss USA organization. It was a really big step for me because it wasn't something that I was familiar with at all," Bennatt said.
Previously unfamiliar with pageantry as a little girl, Bennatt has only improved upon the qualities pageants have taught her since her first competition at 14-years-old.
"I definitely didn't win my first pageant, but I enjoyed the process. It really challenged me to become an overall better person," Bennatt said.
Twenty-something pageants later and after receiving a degree in biology from Sam Houston State University, working as a surgical assistant and reigning as Miss New Mexico for a year in the Miss America organization, her love for the law drew her to Louisiana.
"I worked as a legal assistant for a law firm in the Central Business District," Bennatt said. "I've always known that I loved the law, and I think what drew me to the job initially, was my infatuation with America and serving my country."
With several career options under her belt, Bennatt embodies the essence of Miss USA's 2015 theme of being "more than pretty."
"What you put into the pageant is all about being more than pretty because everything that you learn translates into your everyday life, like the communication skills and the philanthropies that I've worked with and will continue to work with," Bennatt said.
Applying to Loyola College of Law seemed the obvious next move for Bennatt.
"I knew that I wanted to stay in Louisiana. I got into Loyola College of Law and I'm so glad that I did. Loyola has gone above and beyond for me," Bennatt said.
Her time in the classroom during her first year of law school allowed her to excel in interviews and other pageant related duties.
"I don't think that I could be more prepared going into Miss USA. My extemporaneous speaking skills have excelled this year," Bennatt said. "It's a very challenging classroom environment and those challenges that I experienced in the classroom with my peers and professors, I'm appreciative of because when I was in the interview room for Miss USA, it was a cake walk."
Had she been able to answer the top five questions, Bennatt feels whole-heartedly that she would of nailed them thanks to her Loyola education.
In addition to balancing the rigorous demands of law school and pageantry, Bennatt serves Louisiana philanthropically.
"This year, I have been the state ambassador for the Louisiana Coalition Against Domestic Violence. To go to Miss USA and share my story on national television was really rewarding," Bennatt said. "Previously a victim and now a survivor, I've had so many people reach out to me on social media from all over the world."
The subject moved Bennatt close to tears.
"There are a lot of fears that come involved with sharing your story, and I think I stimulated for a lot of people that they don't have to be afraid to share what they've been through because part of the recovery process is sharing your story," Bennatt said.
Bennatt said she balances crowns, law books and fitness through utilizing every moment of every day and that skill has helped her improve physically and mentally.
"There are 86,400 seconds in everyday," Bennatt said. "What you do with those seconds is whats going to dictate who you are today and in the future and there's always room for you to expound upon the skills that you already have. You can keep growing and evolving with time."

About the Writer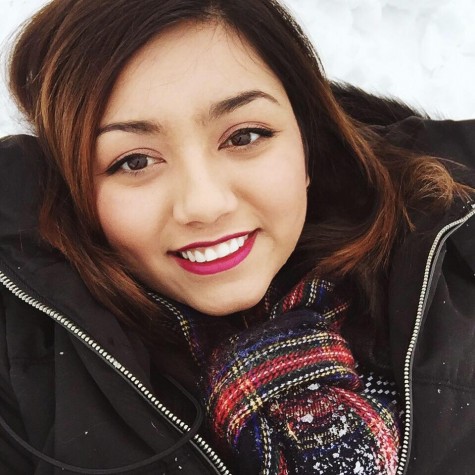 Skyllarr Trusty, Assistant Editor
Skyllarr Trusty is an English writing and biological sciences senior. She maintains several editorial positions as managing editor of ReVisions and assistant...