Street performer turns words into poetry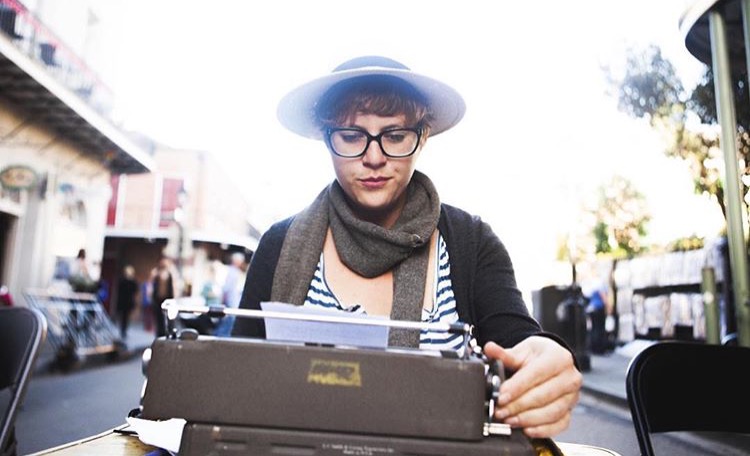 Everyday, Kaile H. Glick unfolds her portable office near the paved paths of Frenchmen and Royal Street. And as bemused passers-by stroll in front of her well-oiled machine, she waits patiently for her next customer.
Tuning to passers-by, Glick fondly asks "Would you care for a poem?"
Glick, a literary street performer and aspiring librarian from Toronto, Canada, sits down at her vintage manual typewriter while she lights a cigarette, rolls in a fresh sheet of carbon paper and proceeds to clack away. Her idiosyncratic hustle consists of selling thoughts and ideas in form of a prose on the spot.
"I sit and I type until somebody comes up and asks me what I am doing," Glick said. "People come up and say 'oh my gosh, that's a typewriter,' and I say 'welcome to The Spontaneous Prose Store, pick a topic and I will write you a poem about it before your very eyes.'"
As the mind behind The Spontaneous Prose Store, named after Jack Kerouac's manifesto which discusses the rules of spontaneous prose, Glick has been dispensing custom made prose-poetry to pedestrians according to their unique specifications. She added that, in her opinion, what draws people in to buying a poem is the fact that the store serves as a gateway to create a connection and engage in human interaction.
"The interesting thing for me about people who buy poems is to see when they come up and ask for random-weird things that don't necessarily mean anything to me," Glick said. "Since there is no way to guess who is coming in, it is exciting, within the people who are genuinely interested, to hear what they are going to say and where I will go with it. It is my job to connect to whatever people give me to write."
As her own harshest critic, Glick, who has been working full-time as a street poet for five years, said she believes that, personally, the most gratifying and enjoyable thing for her throughout this journey has been having the opportunity to reflect objectively about her personal growth as a poet and being able to tell peoples stories for such a long time.
"New Orleans is really a unique place that supports this kind of culture. Coming in as an outsider has made me realize that this city is a place that really supports art, and makes actual physical space in public for art to be created and to be appreciated," Glick said. "I couldn't do this for a living anywhere else."
Glick, who's lived in San Francisco, Portland, Florida and Massachusetts, said she believes New Orleans' strong literary culture fosters a creative literary market that allows artists to pursue poetry as a sustainable form of performing.
According to Anya Groner, writing professor at Loyola University, the South has always had a tremendous tradition of storytelling. Great writers like William Faulkner, Eudora Welty, Flannery O'Conner and Barry Hannah broke literary ground in the South, and there's a newer crop of phenomenal Southern wordsmiths publishing today who are continuing that legacy.
"New Orleans is a hub for musicians and visual artists, so it's not surprising that writers are attracted to the city, too." Groner said. "There's vibrancy here that's palpable."
Groner, whose short stories, poems, essays and book reviews have appeared in journals such as the Ninth Letter, the Oxford American and the Atlantic, said aspiring writers at Loyola have the opportunity to grow because they can take workshops and literature courses with professors who are actively publishing their own work. She added that writing students can also pursue independent studies with professors or do internships at local literary organizations.
"These writers aren't moving here. They're from here, and they've made the choice to stay," Groner said. "Their gravitational pull is bringing in writers from all over."
Not only is New Orleans consistently welcoming aspiring professionals from all over the world who are looking to pursue their passion, it also continues to garner worldwide attention. In December 2015, readers of Condé Nast Traveler ranked New Orleans as one of the best big cities in the U.S. in the magazine's annual Reader's Choice Awards, while Smart Asset ranked the big easy as one of the top ten cities for outdoor enthusiasts and young creatives.
Glick, whose work has been inspired by artists like Shakespeare and Andy Warhol, said she believes that even though poetry has always been a dying art, the city's contemporary literary market and the faction of street poets that continue to make their way south provide her with imperative inspiration to nurture her passion for creative non-fiction and research in hopes to publish her first novel.
"Poetry is not popular, but you get to feel like it's popular through the Spontaneous Prose Store," Glick said. "And, at the end of the day, I get to pay my bills with poems, and that by itself, it's amazing."
About the Contributor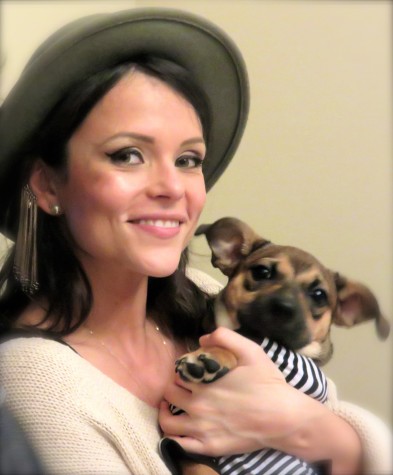 Rebeca Trejo, Life and Times Editor
After leaving her ad career behind to tell the people's stories, Rebeca Trejo is back at school as a mass communication major, with a focus in journalism...