Pass the Plate: Loyola dining explores healthy eating options for students
Hang on for a minute...we're trying to find some more stories you might like.
While healthy eating can be difficult for the typical college student, Loyola's dining services are taking a new initiative to promote wholesome foods to students.
In an attempt to cater to the needs of students, the Orleans Room has revamped their menu to include healthier meals.
Students also have the ability to provide feedback about the foods they consume through a dining advisory board.
"We are working to provide healthy choices to our students in many different ways," Daniella Alvarez, marketing coordinator for Loyola University Sodexo, said.
Alvarez said that student feedback is one of the things that the dining team looks to when choosing food options in the OR.
"The Loyola University Dining Advisory Board is open to all students, and it's a great way for students to tell us what they like and what can be different. When we meet, we discuss what they'd like to see in the OR and Danna Center Food Court," Alvarez said.
Phoebe Carriere-Cook, Loyola Sodexo general manager, said that LUDAB students provide critical feedback on menu selections, dining hours and variety on a weekly basis.
"They are our eyes and ears out amongst the students, as well as a sounding board for new trends that help to shape our dining program each semester," Carriere-Cook said.
Sodexo is also open to sitting down with students to craft menus individually for those who stick to a stricter diet than most.
Travis Johnson, district chef for Loyola and Tulane's Sodexo, said that catering to students' health needs is just as important as the healthy foods they choose to eat on their own.
"What we like to do is get to know students and see both what they prefer eating, but also things that they can and cannot consume, such as those who follow a gluten-free diet. So we allow them to sit down with Gary and create their own meals," Johnson said.
Gary Netter is executive chef at Loyola Sodexo and is open to providing students with quality foods that taste good and are good for them.
"The term 'healthy eating' can be a mystery. Many shy away when they hear that a food is healthy because they tend to think it may not taste good," Netter said.
With healthy eating becoming popular among students on campus, many students look for the quickest snack they can grab that accommodates their diet.
Morgan Ballard, mass communication senior, said that catering to commuter students like herself who prefer healthier foods is important.
"I avoid eating at Loyola because of the few healthy items present. There are a variety, but it doesn't seem fresh and it's very carb-heavy," Ballard said.
Ballard said that one of the ways Loyola dining can promote healthy eating effectively is through the Farmers Market that visits campus.
The monthly market is put on by Loyola Dining Services with items provided by Baton Rouge-based Capitol City Produce.
"While they do not guarantee that all of the fruits and vegetables that are coming in are organic, it tends to always be. These are items that we use every day in OR meals," Alvarez said.
Ballard said that overall, she is impressed with the quality and variety of produce offered by the market.
"I always get the chance to find something new to buy," Ballard said.
While providing students with the option of buying fresher foods on their own through places like the farmer's market is important, making sure the dining hall is catering to the healthy needs of students at all times also plays a role in eating well.
Carriere-Cook said that providing nutritional information on menu items at stations and expanding gluten-free and vegetarian offerings this semester have provided healthy alternatives to the traditional dining.
"We also use social media to video 'OR Healthy Hacks' which shows students how to navigate the dining hall and make healthy choices when dining in the OR," Carreire-Cook said.
Using social media to aid students in picking out healthy foods can be an effective way in staying healthy.
Molly Kimball, registered dietician and nutrition consultant, said that time is the limiting factor in maintaining a healthy diet.
"In general and in college, we don't take the time aside to prepare and plan a diet. The time we spend on things such as social media, we can carve it out to focus on picking the right foods," Kimball said.
For students who are thinking of embarking on a healthier food journey, Kimball suggests the first step is to keep feel-good foods nearby.
"We have to surround ourselves with these things. Keeping snacks such as fruit in your dorm, car and backpack helps your intake to go as planned. When time is gone, we tend to go straight to the drive thru or pick up something unhealthy," Kimball said.
Ballard agrees that making fresher foods available to students in places like the Danna Center Food Court is vital in helping students sustain a healthy lifestyle.
"Another way would be to include a variety of healthy items in the C-store. I think the food vendors on campus could be more 'green,' meaning restaurants that have fresher items like salads or wraps," Ballard said.
According to Johnson, while eating healthy does depend on the colorful produce, lean meats and other protein that students consume, tailoring your diet to your body is the most important thing one must do.
"Many students don't realize that eating healthy has a lot to do with you as an individual. Every single body is different. Only you know the foods that make you feel good and do your body right. Find out which ones work and go from there," Johnson said.
About the Writer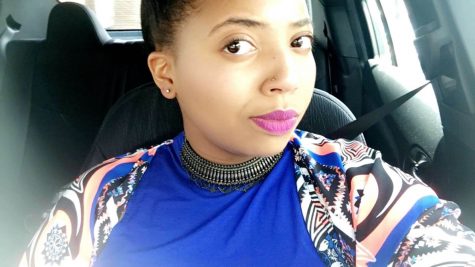 Chasity Pugh, Social Media Producer for Facebook and Instagram
Chasity is a mass communication major with a concentration in journalism and minor in African American studies. Prior to serving as Social Media Producer for...