Heroin haunts a recovering addict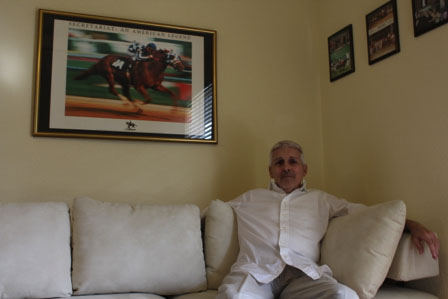 The first time Patrick Coates tried heroin, he didn't like it.
He was around 16 at the time, and said it made him throw up.
"That's what helped me not to do it for the next 15 years," Coates said.
Heroin was not a problem for Coates, who is 64 now, until he was about 35 years old. He was in the hospital recovering from being hit by a car when he developed a dependence on morphine and Dilaudid, both of which are opiates.
After the doctor stopped giving him a prescription for these drugs, he turned to heroin.
His is not a unique story.
According to the Centers for Disease Control's fact sheet on heroin, 45 percent of heroin users also experienced an addiction to opioid painkillers. According to officials from the Jefferson Parish Sheriff's Office's Narcotics division, many of the heroin addictions they see begin after someone has been using prescription pills.
"Once people can't get that anymore, then they start going to heroin. It's a lot cheaper and it's more easily accessible," said an undercover narcotics detective, who cannot use his name to maintain anonymity required of his position.
Jefferson Parish Sheriff deputies said heroin use is seen all over the area, regardless of age or class. The narcotics officer said there has been a spike in heroin use and overdose deaths over the past three years in the New Orleans area. According to the Jefferson Parish Coroner's annual report, there were 66 heroin overdose deaths in both 2013 and 2014.
In 2015, Orleans Parish saw 63 heroin-related deaths.
This trend can also be seen nationally. According to the Centers for Disease Control's fact sheet on heroin, between the years of 2002 and 2013, heroin use increased in almost every demographic group.
While he was a teenager, Coates said he made a promise to his dad that he would never do hard drugs. He smoked marijuana for the first time when he was 11, and then smoked it every day for the next 10 years, but that never became a problem or led to any other drug use.
"I had cousins that were full-fledged drug addicts, and I knew from watching them throw up in the commode and having these habits and watching them go through the things they went through. I remember watching them while smoking my weed, saying 'man, I'll never do that,'" Coates said.
While working with John Jay as a hairdresser, he traveled to New York and witnessed the heavy use of drugs there, but said he still never touched harder drugs than weed.
When he moved back to New Orleans, he got hit by a car and suffered multiple injuries. He said he woke up in Charity Hospital, but was transferred to Tulane University Medical Center.
"I was hurting and every time I asked for something, they gave me more drugs," Coates said.
He said Dilaudid and morphine were the medications he was given. He said he knew about the addictive potential of these substances from his cousins, who eventually encouraged him to inject both morphine and Dilaudid to get rid of pain faster.
Patrick Coates from emily branan on Vimeo.
By this time, he was 34 years old. He said knowing how to inject these substances was the first step in his struggle with addiction.
"Once I realized I had an addictive personality, there was no stopping me. I started doing the drugs like it was going out of style," Coates said.
Coates said he turned to heroin once he no longer had access to these prescriptions.
He then struggled with the heroin addiction for the next 25 years. Despite Coates' experience, activists for pain patients say the pathway from prescribed medication to heroin is not predetermined.
Bob Twillman, executive director for the American Academy of Pain Management, said a recent study found that only about 3 to 4 percent of people prescribed pain medication go on to develop a heroin addiction.
Twillman said the American Academy of Pain Management is working to find solution to both the complex problems involved: chronic pain and chronic substance abuse.
"If we can make it possible for all clinicians to treat pain appropriately, using a patient-centered, multimodal, integrative approach, we can prevent a lot of cases of addiction from developing, while simultaneously providing more effective pain care than we have been able to do by using opioids and other medications alone," Twillman said.
Coates said the worst part of his addiction was how it changed his personality.
"I was never happy. I was always in a bad mood. I always thought somebody was out to get me," Coates said.
Once he was incarcerated because of heroin, he was able to get into the drug treatment program. He then transferred to a halfway house in Monroe, Louisiana.
"When it got to the point where you had to hustle and steal to get it, and when it got to that point, I didn't know if I was going to make it," Coates said.
While he lived in Monroe, he was clean for five years. He said he returned to New Orleans and got in another car accident, leaving him in the hospital and restarting his addiction.
"I was strung out all over again, it was like the drug never forgot me," Coates said.
After overcoming his addiction once, he was back in the same place he started.
He said he blames his addiction on the doctors, since he never used before he was severely injured.
"I got out of the hospital with the intention of not doing the drugs, but it was like the drugs kept calling me back to them," Coates said.
The Jefferson Parish narcotics officer said heroin is tough to stop using and described the recovery process as a "rollercoaster." Coates did eventually seek help at the Behavioral Health Group methadone clinic in New Orleans, which has allowed him to stay off heroin through using methadone and speaking with a counselor.
And things are going well.
"Yes, I walk with a limp. I walk slow. I have bad times, but I'm at the point now where I can really tell people about the drugs and what they can do to you," Coates said.