Sexual Non-Violence Week highlights victim options
A handful of students punched, kicked and dripped sweat in the Saint Charles Room April 12, learning an Israeli art of blocking and attacking opponents in the
same motion.
This Krav Maga self-defense class was part of Sexual Non-Violence Week, which the Women's Resource Center and University Counseling celebrated the week of April 11, hosting a variety of gender violence awareness events.
Sexual Non-Violence Week included a screening of The Hunting Ground April 13 and a Feminist Friday April 15, both involving discussions of gender violence and the resources that are available to students.
Patricia Boyett, director of the Women's Resource Center, said the week helped students to understand how the university supports victims of sexual violence.
"I think it's important always to have these open dialogues, and sometimes I think people see things and they think, 'oh, what's our university doing?' And we're doing a ton," Boyett said.
The Sexual Non-Violence Week discussions continued the larger Loyola conversation on gender violence. The week before Sexual Non-Violence Week, an article on Loyola's The Odyssey page entitled "Uncovering Loyola's Practice Of Nickel-And-Diming Rape Victims" amassed over 1,000 views in a matter of days and was shared widely among students on Facebook.
Sequoya La Joy, sociology junior, wrote about her experience with Loyola's sexual assault proceedings her freshman year, and especially on a gap in the cab voucher system that led to sexual assault victims being charged for rides from the hospital. Since the article came out, La Joy said Loyola has patched the gap and she has become involved in improving the way victims are treated here.
"I did a lot of processing and healing work on my own before I was ready to send emails, write articles and call meetings with staff and counselors I thought could help me. A lot of people aren't aware these options are even available,"
La Joy said.
Raising awareness of the resources available to victims is one of the main goals of Sexual Non-Violence Week. Loyola's seven-person team that deals with assaults outlined these options for The Maroon. The members of this team are:
Patrick Bailey, chief of the Loyola University Police
Department
Alicia Bourque, director of the university counseling center
Patricia Boyett, director of the Women's Resource Center
Laura Kurzu, vice president for marketing and
communications
Patricia Murret, associate director for public affairs
Cissy Petty, vice president for student affairs
Robert Reed, assistant vice president for student affairs
According to the team, students can report assaults to confidential sources including University Counseling, Student Health and Mission and Ministry, private resources like the Women's Resource Center that report incidents but not details, and non-confidential sources including LUPD, NOPD and Student Conduct. Making anonymous reports is also possible through LUPD's silent witness program and Student Affairs' incident reports.
Patrick Bailey, chief of the Loyola University Police Department, said when a student reports an assault, he or she will first be asked if they need medical help or counseling. Then, they are offered a list of
their options.
If the student chooses a non-confidential resource, an investigation will be launched that the alleged victim can choose to participate in at any point, according to Robert Reed, assistant vice president for student affairs.
To help students make these decisions, Loyola offers volunteer advocates and advisors who are faculty, staff, students and alumni.
Boyett said advocates are also available for students who choose to report confidentially and don't want to pursue an investigation.
Bailey said that he talks with victims to see if they would be willing to give descriptions of the assault and their attacker for a timely warning—also known as a Be On the Look Out—to be sent to the Loyola community. He said that to send out a BOLO, there needs to be a clear crime, no violation of the victim's confidentiality and measures the community can take to prevent similar occurrences.
"Many times, in some of our last cases, they will say, 'I do not want you to put out anything about that person,' the offender whom they may know, 'would know automatically that I reported it,'" Bailey said.
In that case, no BOLO is sent.
Members of the team dealing with sexual assaults have recognized that complying with legal requirements is not enough and are taking steps to change the culture at Loyola to prevent assaults.
The team assembled a list of suggestions this spring that they plan to present to the Rev. Kevin Wildes, S.J., university president, on what the university can do to improve assault prevention. The list includes educational and empowerment programs like Title IX training and Take Back the Night
Cissy Petty, vice president of student affairs, said sexual assaults are a problem plaguing college campuses across the country.
"Over the last 20 years or more, federal statistics validate that 1 in 4 to 5 college women are sexually assaulted. This is despite the number of university policies, federal law and compliance guidelines, Title IX regulations and numerous student programs and communication," Petty said.
Petty said this is where Loyola must work to create change on
its campus.
"Real change must involve culture change. Loyola's Jesuit mission calls us to a higher standard of living in community and we should not allow a shameful culture of sexual violence to exist on our campus," Petty said. "As a community we must do more."
About the Writer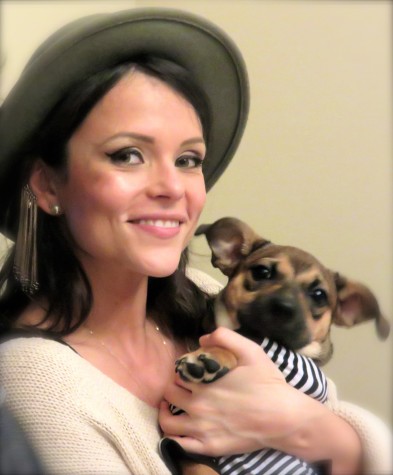 Rebeca Trejo, Life and Times Editor
After leaving her ad career behind to tell the people's stories, Rebeca Trejo is back at school as a mass communication major, with a focus in journalism...