NOMA features first design exhibition
Daniela Marx, professor of graphic design at Loyola, has instructed this year's entire Department of Design, all 70 students, to go visit the New Orleans Museum of Art from Sept. 7 to Sept. 9 for its exhibition "The Essence of Things: Design and the Art of Reduction." The class she'll be bringing is made up of mostly first years in Intro to Design, and they will go as a field trip.
From simple and practical everyday objects like a ziploc bag to the more conceptual designs of chairs and furniture, the New Orleans Museum of Art partnered with the German Vitra Design Museum to present the exhibition, which covers 100 years of design history through about 150 displayed objects.
According to Marx, Loyola University students have access to free admission into the museum with a Loyola student ID. Loyola is the only college that offers a bachelor's degree program in design in New Orleans.
"I think sometimes students have a limited idea of what design is," Marx said.
Marx explained that good design and bad design can distinguish whether a product will last a while, or whether a product will just look pleasing. Students in the department study accommodating their audiences, as well as understanding their often invisible role as designers.
"The Essence of Things," the first design show in the city of New Orleans, is more than just a survey through history. The show brings a focus on how the essence of design contains simplicity and familiarity because elements of design are all around us.
NOMA's RosaMary Curator of Decorative Art & Design, Mel Buchanan, explained that some of the installed objects are about becoming symbols themselves, and wordlessly communicating their use. She said some other designers have demonstrated the concept of reduction through inspiration from the abstraction of nature and the curves of the human body.
"You see that whole range of the everyday items that are every day designed to the more artistic designs," Buchanan said.
The art exhibition on design was featured starting June 24, and it will be on the display until Sept. 11.
Buchanan has guided museum goers through the exhibition during NOMA's Wednesday noontime talks. She said pictures are particularly encouraged at this exhibition, and these 30 minute informal talks are aimed to provide programming since there are more people in the building during the day.
Buchanan commented that the museum encourages guests to take pictures in this particular exhibition. She said museum goers might feel a sense of familiarity with these design objects that beckon to concepts or principals about a simpler lifestyle.
"This exhibition was put together with this strong argument that from the 20th century to now, one of the driving forces behind design was to move towards getting rid of ornaments, making things simpler, abstraction [and] reduction," Buchanan said.
During Buchanan's noontime curation, she said that the designers' work in reduction has manifested to reach more people with the results of design processes, which can dictate a designer's forming of more affordable products. She explained that the idea of being a genius in design doesn't only include sparks of creativity, but also the literal hard work that comes with shaping material for audiences.
Marx echoed this sentiment.
"We're designers, so my students just want to understand concept and form and when you're making something for your audience," Marx said.
The New Orleans Museum of Art will be concluding the exhibition on Sept. 9 with the Design Panel Program at 5:30 p.m.
About the Writer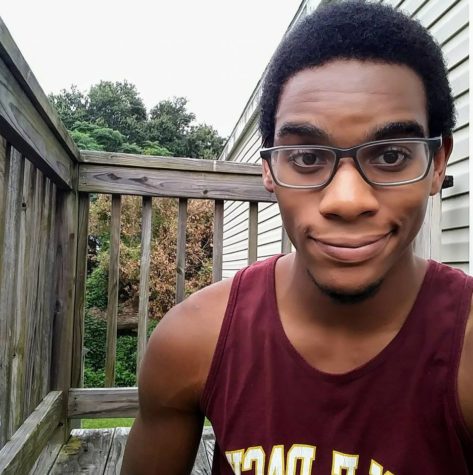 Jamal Melancon, Senior Staff Writer
Jamal is a mass communication senior with a focus in journalism. Before serving on The Maroon as the Senior Staff Writer, Jamal worked as the Worldview...