Dorm room recipes to keep the hunger away
Just because you live in a dorm doesn't mean that you can't get creative with your dorm food essentials. Our two Wolf chefs put together a few recipes that are easy on the wallet and delightful on your tastebuds
Ever been severely disappointed to walk into the OR and realize they're not serving hash browns for breakfast? Yeah, me too. Cue sweet potato hash with eggs. Even if it's already 2 p.m. on the weekend and you just woke up about five minutes prior, whipping up this colorful dish will make you feel like the most productive person on Earth, and we could all use an ego boost first thing in the morning.
Sweet Potato Hash Browns with Fried Eggs
Feeds around two people (or one very hungry person)
Takes about 30-45 minutes to cook, including prep
What you need:
1 sweet potato, about 2 cups diced into small cubes
Half of a large onion, diced
1 clove of garlic, minced
2-4 eggs
1 tbsp oil, plus extra if needed
Butter
Pepper and salt
1 tsp paprika
Additional: Hot sauce
How to do it:
Start by heating up a large pan on medium heat, and then add about a tablespoon of oil.
While that warms up, start dicing your onion and then add it to the pan to start sautéing. Quickly mince up your garlic and add that in with the onions. Now, don't be afraid of your garlic. If you've got a small clove, feel free to add in another one.
While the onions cook, dice up the sweet potato. Keep in mind, you don't want the cubes to be too small, but too big also means a longer cooking time.
Your onions should be half sautéed by now so add in your sweet potato and mix everything together with a spatula. If necessary, add a little more oil to the pan, so nothing sticks or burns, and make sure all the sweet potatoes get coated.
Here is where you mix in your spices, as well; throw in a teaspoon of paprika, and salt and pepper to taste (about half a teaspoon each, at the least).
Don't have paprika? No problem. Feel free to omit it altogether. You could also replace this spice combination with your favorite creole seasoning if that suits your fancy more. Remix your mixture so the spices balance out.
Every couple of minutes, make sure to toss your potato/onion combo around; this will allow everything to cook evenly.
You'll know your hash browns are done when everything shrinks to half the size it started off as and looks slightly charred, but not burnt. At this point, you should be able to stick your spatula through one of your potato cubes with little trouble. If you want your potatoes crispy, add in a couple slices of butter right before they're done cooking.
In a separate pan, fry your eggs. You can make one or two per person, depending on preference. This dish is best when the eggs are a little runny. Over easy is recommended, but everyone knows how they like their eggs. Follow your heart, babes. Make this dish your own.
For fans of aesthetically pleasing plates, I recommend dishing out your hash browns onto a plate and serving the eggs over them. At this point, you're basically done. Cool additions to this recipe include a little shredded cheese over the top of the finished product or your favorite hot sauce.
Mexican Breakfast Extravaganza
Feeds about 2-4 people
Takes at least 25 minutes to cook
What you need:
Eggs
Sausage
Half of a large onion, diced
Flour tortillas
Salt & Pepper to taste
Toppings: Avocado, Salsa, Sour Cream, Shredded Cheese
How to do it:
Here's another preference feature. You can choose to slice the sausages or take the meat out of its casing so you have more of ground meat thing going on. I suggest the latter, but ultimately the choice is yours. No matter what you choose, you're going to want to start browning the sausage in a pan over medium heat.
Remember our last recipe? Remember how you only used half an onion there? Guess where you're gonna use the other half. Right here. Dice up that leftover onion and add it to the pan with the sausage. Mix together, and add a little salt if needed.
Lower the heat on the sausage pan just a tad, that way nothing overcooks while you work on your eggs. The number of eggs you use depends on how many people you're feeding. Even if you only plan to feed yourself, I recommend using at least two eggs. If you're feeding additional people, add your eggs accordingly. Scramble them together with some salt and pepper (because no one likes bland eggs) and add them to another little pan to cook. You're not cooking an omelet here so remember to move your eggs around with a spatula so you don't get one big egg disk. Scrambled is key.
Neither the egg nor the sausage mix takes very long to cook. After each finishes cooking, remove the pans from heat. Now we're ready for the extravaganza. Grab your flour tortillas (warmed up slightly in the microwave or cold, either works) and lay them out on a plate. Add your eggs and sausage, and any additional toppings you desire. This recipe is dubbed an extravaganza purely so we don't discriminate against people's folding styles. Whether you want to pick up your tortilla like a taco or bundle it up like a burrito, the choice is yours. What's really important here is that you dig in and enjoy your new favorite breakfast food.
Baked Avocado Fries
Makes 12 fries
Takes about 20 minutes
What you need:
1 avocado
1/3 cup of flour
2 eggs
1 cup homemade or panko breadcrumbs
Spices for seasoning
1 tablespoon oil
How to do it:
First off, preheat your oven to 400 degrees. Then grab a baking sheet and grease it. Set that aside.
Next, you're gonna want to peel, pit and slice your avocado. Keep in mind that these are fries, so you don't want to slice the avocado too thin. Also, you don't want your avocado to be too ripe, otherwise it might have trouble keeping its shape. Once you're done slicing, season them with a sprinkle of salt, pepper and some cayenne pepper or paprika, if you have it. Then dip the avocado slices into the flour to lightly coat.
From here, you're gonna coat them in egg (which should be scrambled) and then your breadcrumbs. Now, panko or any other type of breadcrumbs aren't exactly a college pantry staple, but crackers and cereal are. Grab a handful of some Ritz or whatever you have on hand and crush them until they're fine.
Repeat these steps until all your slices have a healthy coating of breadcrumbs. Then lay them out on the baking sheet and drizzle a little bit of oil over the top of the avocado so they come out crispy. You're going to want to bake the slices until they are crispy and golden, about 10-15 minutes. After that, you're good to go! Eat plain or serve with ketchup or a dipping sauce.
Now, a staple in every college kid's pantry is a package of ramen. But let's admit it: that flavored powder gets a little boring after a while. Here are some recipes to spice things up a little. Note: the portion sizes are a little bigger with this first one. I had guinea pigs (I mean, roommates) to feed.
Ramen Stir Fry with Chicken
Feeds exactly 4 hungry girls
Takes about an hour or so to cook
What you need:
1 package of chicken, cut into cubes
Half a large onion, cut into thin strips
2 cloves of garlic
1 bell pepper, cut into strips
¾-1 cup of sliced mushroom
4 individual packages of ramen
Olive oil
Soy sauce
Salt & pepper
How to do it:
Because there will be a lot of it, I suggest cooking your ramen in a pot. Fill it about ¾ of the way with water, pour in a dash of olive oil and set it to boil. Then cook the ramen according to package instructions. It will only take 3 minutes to cook, after which you will drain the ramen and set it aside. Make sure to keep one of the flavor packages. We'll need this later.
For this recipe, I suggest using a wok, as it helps keep down the number of pans you have to clean later. For those of you living in a dorm, I'm pretty sure you can rent one from the DA downstairs. Everyone else, invest in a wok. Really. It's worth it. So guys, grab your wok, put your stove on medium heat and heat a tablespoon of olive oil in it.
While the oil heats, start cutting your vegetables into strips. Start with the onions and add that to the wok. Then mince the garlic and add that in with the onions. Next, slice your bell pepper into strips. The best way to add color to this dish is with your bell peppers; if you have the refrigerator space, grab two different colored bell peppers and cut half of each into strips. If not, stick with one bell pepper and work with the whole one. Once the bell peppers are cut, add that to your wok, as well. Finally, add in your mushrooms, throw a teaspoon of soy sauce into your vegetable mix along with one of the leftover flavor packages and stir.
In a small pan, warm a little bit of olive oil and then add your cubed chicken. Season with salt and pepper, and cook the chicken until the outside is slightly golden and the chicken is cooked all the way through.
Remember your wok full of veggies? Yeah, stir it every so often. We don't want that to burn. The good news? It's done once your onions are almost see-through and your bell peppers and mushrooms are softer. Now you can add in the cooked chicken and ramen. As you mix all this together, add in soy sauce until the ramen turns a light brown color.
Remove from heat and dish out for you and your companions. Note: you can easily cut this down to feed one or two people. Simply halve the vegetable and ramen quantity. And sriracha fans? Go nuts. Add it to the stir fry before you remove it from the heat, and then let me know how it goes.
Honey Lemon Chicken Ramen
Serving size: 2
Ingredients
1 tbsp butter
1 bag of chicken flavored ramen
1 lemon flavored tea bag
Sprinkle of parsley, onion and garlic powder
Salt and pepper to taste
1/4 cup honey
1/4 cup Dijon mustard
1 tbsp. Sriracha or other spicy chili sauce condiment
Directions
Step 1
Brew lemon tea. Add tea to onion and
garlic powder, salt, and pepper.
Step 2
Cook ramen by boiling in a pot for 10 minutes on high.
Step 3
Combine honey, mustard and hot chili sauce until thoroughly mixed.
Step 4
Combine ramen with sauce and sprinkle parsley. Serve with vegetables or whatever you want.
Shrimp Alfredo Ramen
Serving size: 2
Ingredients:
1 pack shrimp flavored ramen
3 ounces shrimp
1 cup heavy cream
2 cups of milk
1 tablespoons butter
1 large clove of garlic
1/2 small onion
5 cups spinach
4 cups broccoli
1/2 cup parmesan cheese
1/4 cup Romano cheese
1/2 cup asiago cheese
1 oz cream cheese
Salt and pepper to taste
1/2 tbsp. cayenne pepper
sprinkle of parsley
Directions
Step 1
Clean and de-vein shrimp. Season with cayenne, salt, and pepper.
Step 2
Cook ramen by boiling in a pot of broth for 10 minutes on high.
Step 3
Mince garlic. Chop onion. Heat large pan to medium heat add one tablespoon of butter and sauté garlic, onion, and broccoli.
Step 4
Add shrimp to pan brown on both sides. Then, add cream cheese. Once melted, add heavy cream. Stir. Add milk slowly and do not allow to over boil.
Step 5
Add spinach, cheeses, and pasta. Season to taste and simmer for 15 minutes on low heat.
Bacon Egg Quesadillas
Serving size: 2
Ingredients:
2 tortillas
2 eggs
2 bacon strips
Handful of cheddar cheese
2 tbls salsa
Directions
Step 1
Pan fry bacon, and then, cook scramble eggs. Heat panini press or use skillet. Spread cheese in tortillas and add scrambled eggs.
Step 2
Fold tortillas. Place tortillas in skillet or panini press. Take tortillas out of skillet after 2 or 3 minutes.
Step 3
Eat with salsa.
About the Contributors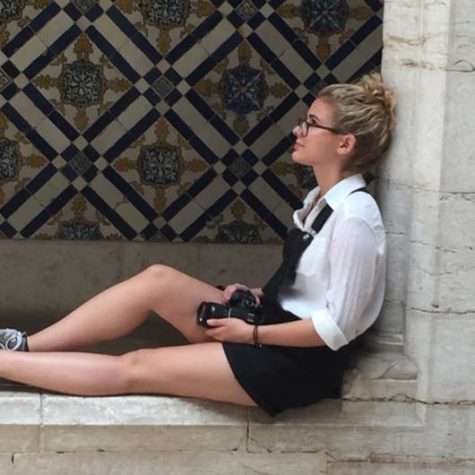 Paulina Picciano, Managing Editor for Print
Paulina is a Classical Studies senior with a concentration in Greek language. When she's not working on translations or learning about ancient cultures,...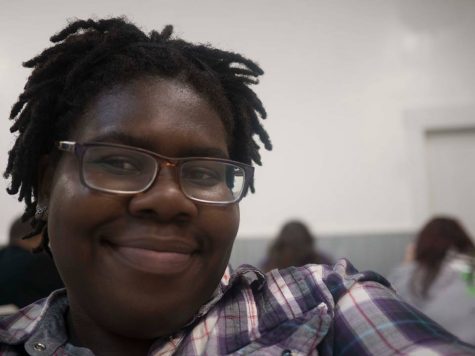 Alliciyia George, Video Producer
Alliciyia George is the Video Producer for The Maroon and Maroon Minute. Previously, she worked at The Maroon as Senior Staff Photographer and as a contributing...