Street Scene opera revitalized through school of music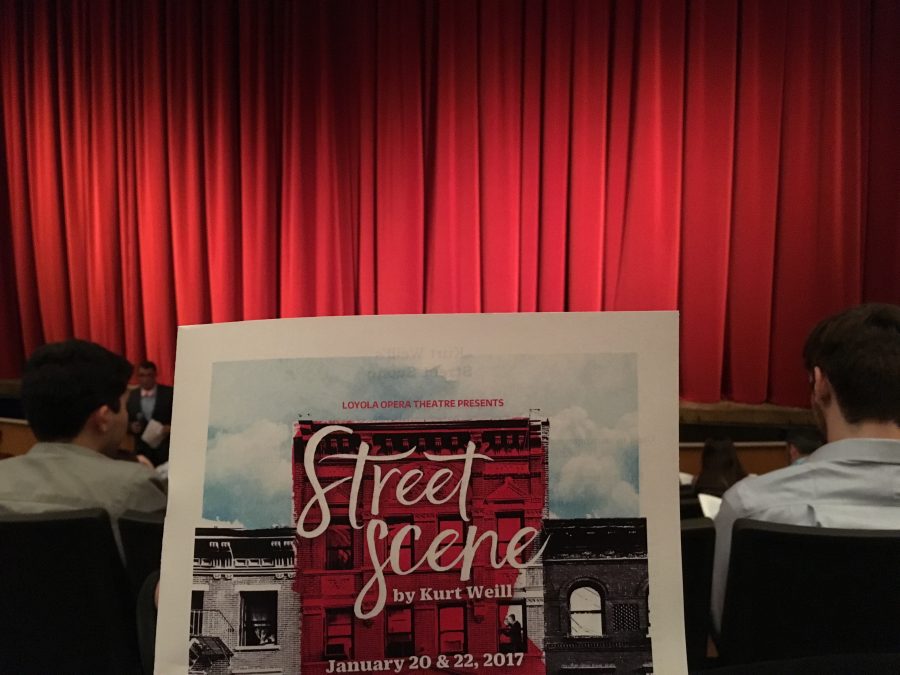 Jessamyn Reichmann
January 26, 2017
An orchestra raised their instruments in unison and the theater's red curtains began to rise as the opera came to life.
Over the course of two shows on Jan. 20 and Jan. 22, the Loyola Opera Theater presented "Street Scene." Depicting a vocalized reality of New York slums in 1946, "Street Scene" features romance and neighborhood gossip that culminate into the show's tragic ending.
Based on the Pulitzer Prize-winning play by Elmer Rice, with lyrics by Harlem Renaissance poet Langston Hughes, "Street Scene" won Kurt Weill a Tony for Best Original Score in 1946. Social activist and American poet, Langston Hughes provided lyrics to "Street Scene," an aspect of the opera that Briana Thompson, theater arts freshman, was attracted to.
"What really drew me to 'Street Scene' was the general plot of the show, a majority of the script was drawn from Langston Hughes; one of my favorite playwrights," Thompson said.
"Street Scene" is called an "American opera" for its fusion of European traditional opera and American musical theater.
"It's not a traditional opera, where at times it's quite easy to fall asleep. It's overall extremely engaging and captures the true street scene of New York," Thompson said.
Anthony DeCuir, dean of the College of Music and Fine Arts, came forward to engage with the audience and share some remarks about "Street Scene" before the show began.
"This show is truly one of a kind. The music brings to life the set and the characters, from every word, to every instrument being played. 'Street Scene' I guarantee will come to life," Decuir said.
Talia Moore, theater arts freshman, studied the works of Hughes. Moore was aware that Hughes was not just a poet, but a social activist.
"In his work, Hughes tends to point out that we're all the same, that at the end of the day we just take on different forms and characteristics," Moore said.
With Black History Month taking place in February, Langston Hughes tends to get associated with fellow powerful African and African-American writers.
"From time to time I see Hughes mix with a little Zora Neale Hurston and Maya Angelou, and from one writer to another, they all are well-spoken and realistic, I expect much from his part in Street Scene," Moore said.