$pare Change rocks Tipitina's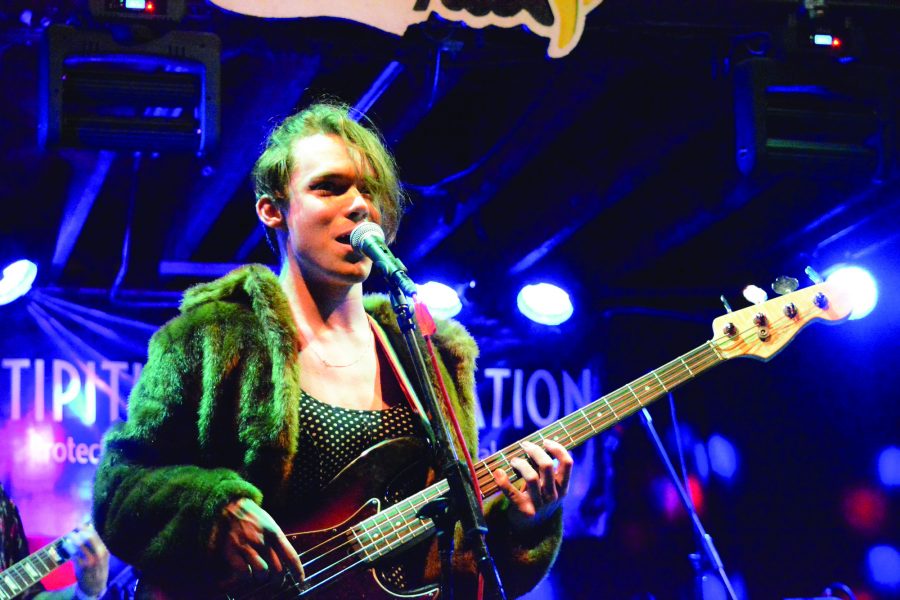 Davis Walden
February 16, 2017
Loyola's own $pare Change played an after party show to kick off Carnival season in the wake of Krewe du Vieux.
From their humble beginnings as a music industry project that played their first show in Satchmo's, $pare Change played at Uptown's Tipitina's with Miss Mojo on Feb. 11.
"We are huge fans of Krewe du Vieux and so are our fans," said Jeremy Kern, saxophone player and founding member. "We love performing and getting the chance to share our music with people."
$pare Change is known for their theatricality, often wearing boas, masks and dresses on stage.
"A big part of our musical identity is freedom of expression. The fact that it warrants a question is reason enough for us," Kern said. "Plus it's extremely comfortable. I'm a believer in skirts now. Shorts suck."
Tipitina's began in 1977 as a jukebox joint that became a place for performer Henry Roeland Byrd, known as Professor Longhair, to play music later in life.
"It was really trippy," Fionn Hunter-Green, lead singer of $pare Change and music industry studies junior, said. "You go to the green room, and it's really beautiful and decked out."
$pare Change had opened for Miss Mojo at the Howlin' Wolf in 2016, back when the band Miss Mojo was calling themselves Cakewalk. Miss Mojo contacted the band to play at Tipitina's with them.
"We go pretty far back," Kern said. "We owe them our thanks. They hit us up to play Tipitina's this last time."
The band released their first EP in 2015 at the end of their freshman year. They had played at a variety of concert spaces with differing technical environments.
"It was the first time I've ever had a really professional sound on stage," Fionn said. "It helps you play professionally for everyone else."
$pare Change will be playing at the Willow Uptown Bar Feb. 24th with Stone Rabbits and Long Neck Culture. $pare Change will be releasing their first full-length album in April.