University convocation focuses on Project Magis
Faculty and staff gathered in Roussel Hall on Monday, Aug. 14, to hear university president Kevin Wildes, S.J., deliver his annual, and final, President's Convocation to start the academic year.
Another key speaker, in his first Loyola convocation, was Interim Provost David Borofsky, who used the event to laud Project Magis, a plan that seeks to bring financial stability to Loyola in the next several years.
"The path forward is not only exciting, but strong," Borofsky said.
Over the summer, a communication planning process, which included 150 faculty, staff and students, examined Loyola's current and past performance in areas such as cost management, student retention rates and student success in order to create a plan to strengthen Loyola's future, which became Project Magis.
Borofsky stressed that when the plan is successfully implemented, two major outcomes will occur.
First, there will be no draw from the university's endowment in the 2018-2019 fiscal year. Borofsky said the university has taken five percent from the endowment every year it has been in place.
Second, for the first time in 2020, Loyola will have funds left over to return to the endowment or to reinvest in the university.
"We need to have open, honest conversations. We need to be transparent about the direction of the university and clear about the roles we have," Borofsky said about how to ensure the plan's success.
In regards to the faculty buyouts announced earlier this summer, Borofsky acknowledged that the university lost good people, adding: "We are still strong and tenacious because of you."
Borofsky said there will be two town hall meetings in the upcoming weeks to discuss Project Magis – town halls he encouraged everyone to attend.
"Get involved. Ask questions, even if they're tough questions," Borofsky said of the town halls.
Following Borofsky were remarks by Edgar Chase, a Loyola alumnus and board member. Chase stressed the significant increase in student retention, which is up 3 percent since 2015.
"I believe this will be a wonderful year due to the efforts of everyone in this room," Chase said.
To close, Borofsky introduced Wildes, saying that his 14 years of service at Loyola were "a testament to his passion, strength and dedication to help students and faculty be their best."
Wildes, who announced his retirement earlier this month, explained that he made the decision through much deliberation and prayer. He acknowledged the great progress that has already been made and said he looked forward to seeing more of it. He said he wants to leave the university in a strong position for his successor.
"We live in a time where our nation has seemed to lose its way. What we do here at Loyola is important. It is important for us and for our nation," Wildes said, commending the critical thinking skills and social justice mindset of Loyola's curriculum.
"While I will be sad to leave, I am excited for all of you and for the future of this university," Wildes said in closing.
About the Writer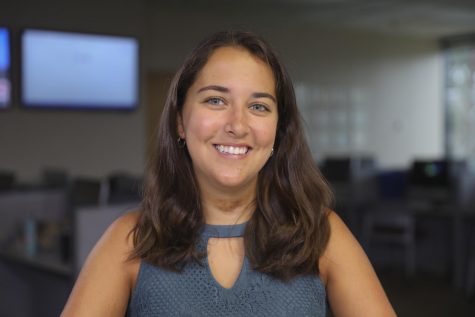 Erin Snodgrass, Editor-in-Chief
Erin Snodgrass, mass communication senior, is excited to be serving as Editor-in-Chief of the Loyola Maroon this semester. She has previously worked as...