A psychic fair is in your future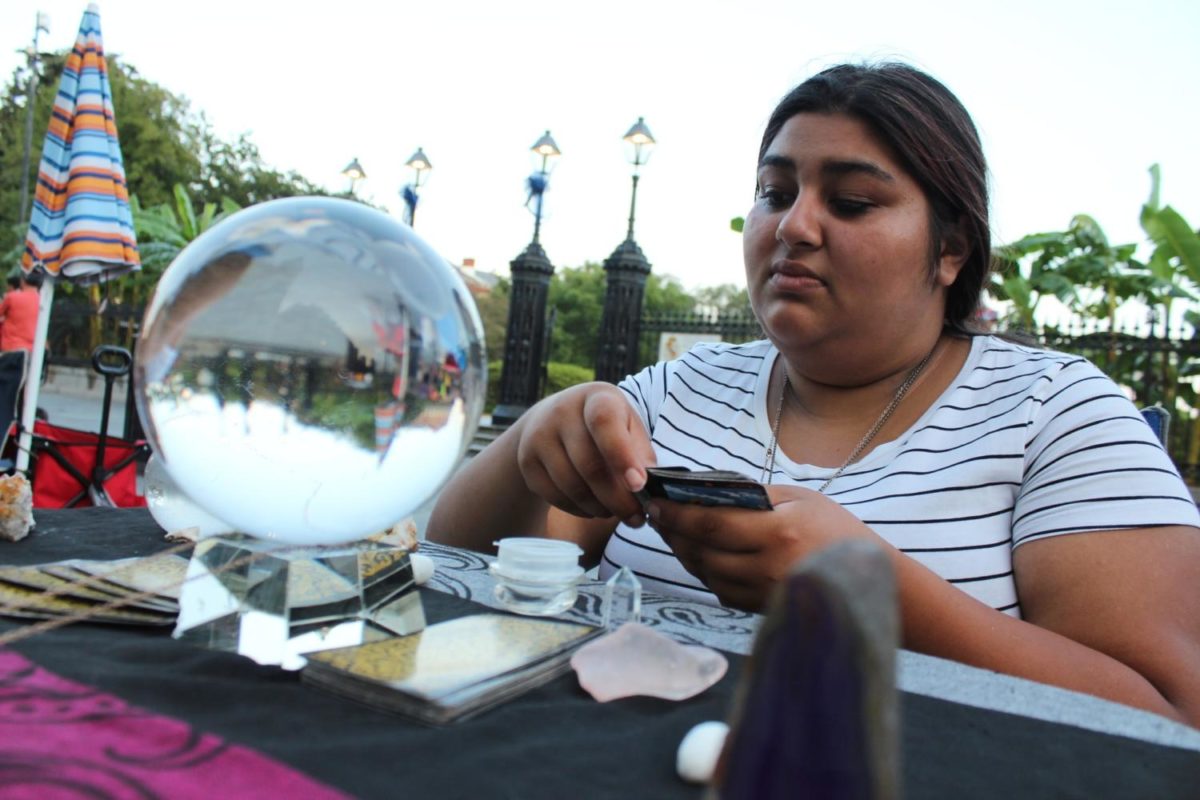 Payton Whittaker
September 28, 2017
Seeking to boost the mind, body and spirit with a celebration, Mid-City hosts its New Orleans Psychic Fair on Oct. 6 and Dec. 30.
With vendors ranging from mediums to witchcraft suppliers, the fair represents a coming-together of people working in the metaphysical fields.
Debra (Luna) Gonzalez, a vendor there, is a Mah-jong and tarot card reader who owns Snake Oil Tarot and Apothecary.
Gonzalez said she has always been attracted to this field of study. She was raised Catholic but it never gave her what she was looking for.
"This lead me on a philosophical quest of sorts for the truth," Gonzalez said of her occupation.
A friend taught her tarot and Mah-Jong reading 11 years ago. Gonzalez has now been doing it on her own for the past five years, and she believes New Orleans has deep cultural roots for things of this nature.
"Famous cultural characters like Marie Laveau, an extremely powerful, free woman of color that did spiritual psychic work for people were hugely influential in things like court cases," Gonzalez said.
She also said New Orleans being a port city brings out a mixture of spiritualities.
"Places that are ports are the cross roads," Gonzalez said. "[The] element of water brings out imagination and sensitivity and becomes a heightened place for that."
Another vendor that will be present at the psychic fair is Linda Murphy, who owns The Witch Depot.
Murphy believes in the power of healing through stones and has collected stones herself since she was 13 years old.
Murphy grew up in a "haunted" plantation home in Mississippi where she said she used to have dreams that would come true.
"The dreams became true so often and scared me so bad," Murphy said. "I actually turned off the ability at around 16. I have not had a vision come true since about 18."
Swami Stone, another vendor who collects stones, claims to be a "healer," who picks up stones from wherever she travels.
Stone, like Murphy, said she experienced abilities as a child such as being able to read minds and see the future. With the help of a Yogi, she said she was able to reach enlightenment and unlock her full potential.
"Through meditating, my head exploded and energy went through my body and at age 33, I was activated," Stone said.
Although New Orleans is often associated with the supernatural, such as its cultural connection to Voodoo, events like these are often not well attended, according to Sid Patrick, who is president of the Metaphysical Resource Center.
"Other large cities like Dallas and Atlanta have quadruple the size that we do," Patrick said.
After Katrina, Patrick's Metaphysical Resource Center hosted occasional fairs for several of the shops that had closed down.
"The success of the fairs told us there were needs for this type of ongoing education and healing," Patrick said.
Patrick hopes that one day, the New Orleans Psychic Fair will be as big as similar events in Dallas and Atlanta.
"We strive to bring the best in the form of educators, psychics, mediums and healers to the public," Patrick said.
Gonzalez said her favorite part about attending the fair is that "you meet interesting people who are open-minded."
In addition to their work in the metaphysical at the fair, Stone said vendors also strive to create a welcoming environment which she describes as a place of "no judgement."