Steve Gleason delivers "No White Flags" speech for National Disability Awareness Month
Former Saints player Steve Gleason was diagnosed with ALS in 2011. Most people who get that news only survive 2-5 years. Gleason will start his seventh year living with the disease in January.
On Tuesday night, in support of National Disability Awareness Month, Loyola hosted Gleason in Nunemaker Auditorium, where he delivered a speech called "No White Flags." Gleason shared his experience of being diagnosed with amyotrophic lateral sclerosis and how his philanthropy foundation "Team Gleason" helps raise money and awareness for the disease.
The event began with a welcoming statement by the Rev. Kevin Wildes, S.J., who showed snippets of the documentary "Gleason," released last year, which tells the story of Gleason's seven-year battle with ALS.
The terminal illness is most common in people over 50 years of age, and yet Gleason is "very…very…very…far from 50," something he said during his speech.
He was diagnosed at the age of 34.
Though spoken communication and physical mobility are no longer possible for Gleason, he relies on his sense of humor and unyielding determination to help others and overcome his own setbacks.
Through an electronic eye gaze system, Gleason is able to communicate by typing with his eyes and was able to tell his story and crack jokes with the audience. The technology is one that he helped Microsoft develop. After being diagnosed, he asked for their cooperation in the advancement of communication technologies to help those impaired by the debilitating illness.
During his speech, he revealed that his son, Rivers, was the reason he felt he had to put up a fight. He described how just months after being diagnosed, he and his wife found out they were expecting a baby.
"I believe my future will be greater than my past," Gleason said.
Through his foundation "Team Gleason," he advocates for legislation supporting those who suffer from ALS.
In 2015, his efforts paid off, and the "Steve Gleason Act" was passed. The bill makes permanent the elimination of a specified payment cap under the Medicare program with respect to speech generating devices.
After his talk, Gleason opened the floor for audience questions, many of which revolved around the technology of Gleason's communication device, as well as questions targeting Gleason's ability to persevere.
Alexander Acevedo, marketing sophomore, was not only moved by Gleason's athletic accomplishment, but his strength to stand up to this new opponent.
"I found it very, very inspiring when he talked about his spiritual journey," Acevedo said. "His phrase 'No White Flags' was very inspiring and as an athlete I hope to overcome my personal obstacles with the same courage Gleason has."
To close his speech, Gleason took the chance to impart some wisdom to the crowd.
"Our power does not lie within the physical body, but within our soul's on fire," Gleason said.
About the Writer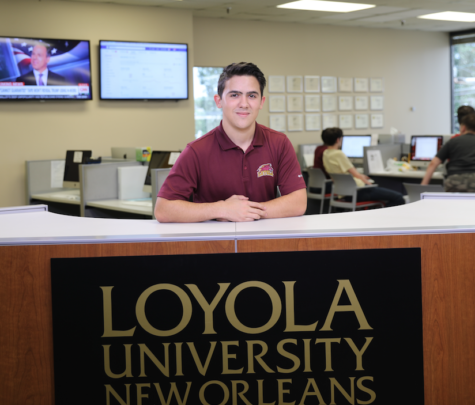 Anderson Leal, Managing Digital Editor
Anderson is a public relations sophomore.  This semester he takes on the managing digital editor position, and hopes to provide and maintain relevant...