Volleyball team finds its groove after slow start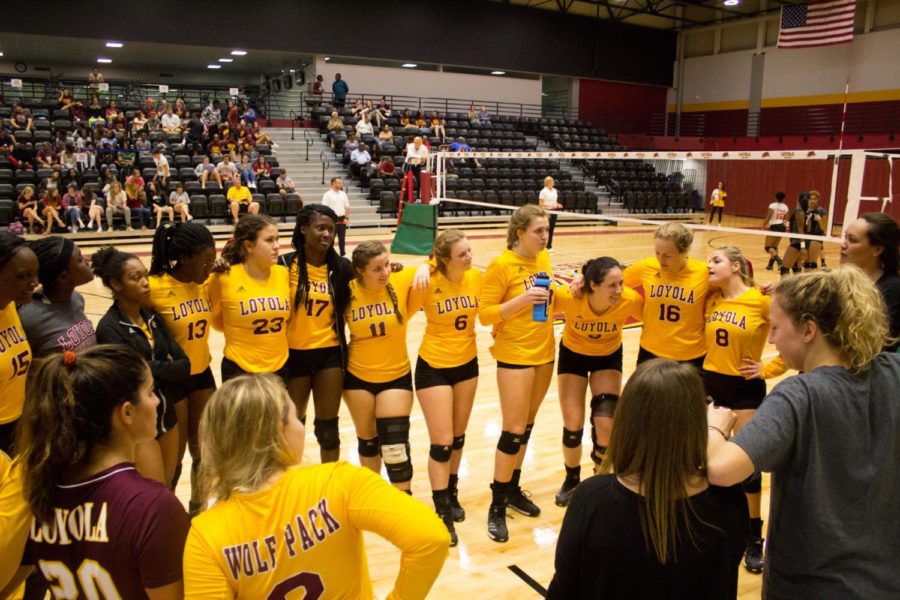 Cristian Orellana
October 18, 2017
After shutting out Middle Georgia State University, Brewton-Parker and Talladega College back-to-back-to-back this past week, the Loyola volleyball team still strives to improve throughout the season by focusing on head coach Jesse Zabal's points of emphases.
"I'm hopeful that with continued work in the gym, we will move beyond expectations and peak as we enter the second round of conference match-ups," Zabal said.
Zabal said the team is meeting expectations and is still growing by working on what she calls "volleyball IQ," where the players try to really understand the strategy of the game, not only by being involved when the ball is on their side of the net but knowing and understanding what's happening on the other side of the net.
"The more we know, the smarter we can be about what hitters we set, where those hitters will hit and how we set up our blockers and defenders," Zabal said.
Zabal singled out junior education major Maddie Huekels, general studies sophomore Sunni Rae Blanchard, junior biology major Allison Hartmann, psychology sophomore Malea Howie, psychology sophomore Beatriz Agosto and sophomore mass communication major Tylar Beckham for making great attacks and blocks offensively. Defensively, she said freshman psychology major Helene Masone paced the team with many digs every match.
"All of these girls are learning, or relearning a lot of information on a daily basis, and at times it may look worse before it gets better. We are trying to embrace that and learn from those moments to ultimately reach success," Zabal said.
Senior business major Lindsay Ulfig is also trying to become a smarter player by being aware of what is happening on the other side of the court.
"I am really excited for the upcoming weeks because we have a few home games coming up. We have been learning a lot from the last couple games on the road and I'm excited to have some more games in our new gym," Ulfig said.
With more consistant conference play coming up, Zabal thinks the team can keep up its success.
"I'm seeing moments of greatness within matches, and we are looking to string more of those moments together within a match as we continue on in the season," Zabal said.
As of Sept. 26, the Wolf Pack is riding a four-game winning streak. three those being shutouts, and stand at 9-7 overall. The team will head to Pulaski, Tennessee on Friday, Sept. 29, where they hope to ride their momentum on an interstate three-game road trip.