Caroline, or Change comes to New Orleans for first time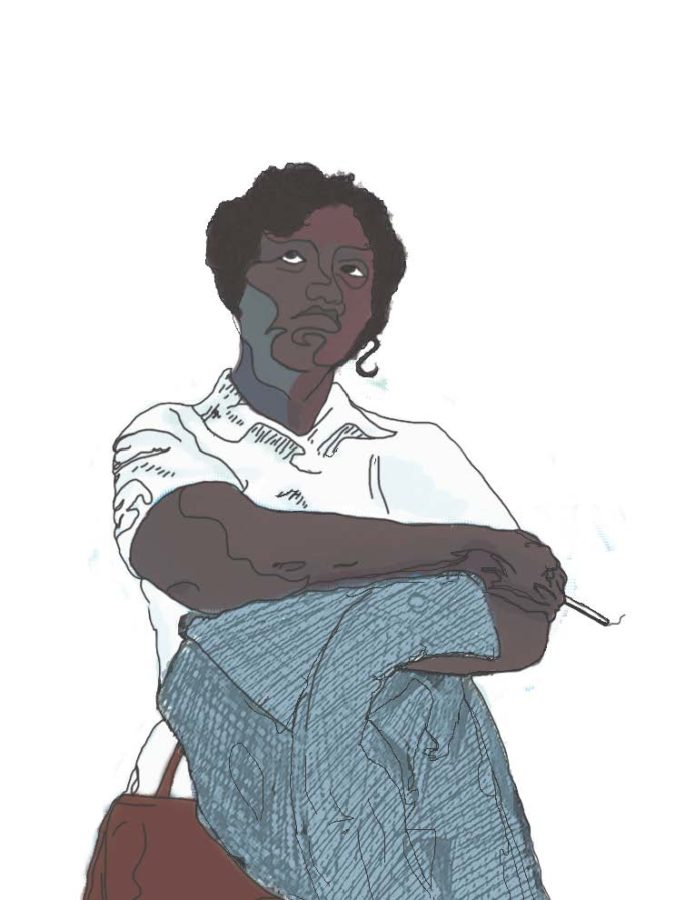 Davis Walden
October 27, 2017
A musical discussing a toppled Confederate monument, racial inequality and a struggle to make social change happen sounds like something new, but for Tony Kushner and Jeanine Tesori's musical "Caroline, or Change," it was already happening in 2003.
It took 14 years for the Tony award-winning musical to premiere in the greater New Orleans area.
The musical follows Caroline, a maid with four children, in 1963 and her life with her employers. "Caroline, or Change" discusses racial inequality, oppression and features a sub-plot about a defaced and toppled Confederate monument.
"A lot of the things we see in 'Caroline, or Change' are still things that happen to people," Josie Gautier, dramaturg (a student researcher) and theatre arts sophomore, said. "It was already relevant because of racial tensions in America. Two weeks after I was assigned as dramaturg, the rally in Charlottesville happened."
"Caroline, or Change" is being co-produced by Loyola's Department of Theatre Arts and Dance and the Jefferson Performance Arts Society.
"I just wanted someone to do it. Nobody was biting. It's always been on the back of my mind as a wishlist, and then we got this musical theatre program," Laura Hope, director of "Caroline, or Change," said. "We, in 2016, when I became chair [of the department], made a commitment to making more social justice theater to tie in with the mission of the university."
Hope, along with faculty member Patrick Gendusa, attempted to find a way to put on the musical despite its size and budgetary needs.
"It's a very complex musical score," Briana Thompson, who plays Caroline's friend Dottie, said. "I feel like it's a really important show. Especially with the nature of society right now. There's a new revolution with the African-American community and this play highlights revolution and civil rights."
Dottie is a younger maid that goes to college during the Civil Rights movement.
"She shows the side of the African-Americans who supported the change, while Caroline is the foil to that change," Thompson said. "She (Caroline) wants to stay where she is and she is afraid, if she steps out of her boundaries, she'll be persecuted as many people were."
The play brings up issues about race and inequality that are talked of today.
"That musical now feels like it was written five minutes ago, even though it's about the past, because we're cleaning up now," Hope said. "We're cleaning up some of the stuff that's never been resolved and has been sublimated and pushed aside in the mainstream culture and media and now it's back with a vengeance."
"Caroline, or Change" was nominated for six Tony awards including best musical, best original score, best book of a musical and won best performance by a leading actress in a musical.
"At its core I think it's a hopeful musical. It's about tearing apart what social change and personal change means," Hope said. "Change is scary for some people, but change is what life is about. Nothing ever stays the same. Good or bad, everything changes. The world doesn't stay static."
"Caroline, or Change" features personified household appliances that are a part of Caroline's world, such as the radio, which is formed by three people, including Talia Moore, musical theatre sophomore.
"The radio acts as almost like a chorus in a Greek play, where they are an outside observer. They still have opinions that shape the whole play," Moore said.
Other personified objects include the washing machine, dryer, bus and moon.
The Confederate monument mentioned in "Caroline, or Change" is the "South's Defender" statue outside of Calcasieu Parish Courthouse in Lake Charles.
"These monuments are still very much oppressive to just be up for a lot of people," Gautier said. "They mean a lot more than just the heritage argument that people are saying."
Loyola students cast in the Department of Theatre Arts and Dance's "Caroline, or Change" will be able to work with theater professionals and an equity theater for the production.
"I think JPAS has a lot more resources than we have. They have a bigger budget, more access to a lot of publicity. They have bigger spaces that allow for the people who study here to have more educational opportunities to perform," Gautier said.
The production is a mix of professional actors and student actors as well as student technicians working with professional technicians.
"It's just a good learning experience to work with a professional theater in the area," Gautier said. "The theater department is training young professionals, so to have young professionals work with professionals just brings them up into the world that they need to be working in."
The musical is an over two hour operetta with one break for intermission.
"It's honestly one of the hardest productions I've ever been a part of and not just because of the musical score but because of the depth and complexity," Moore said.
"Caroline, or Change" performs from Oct. 27 to Nov. 5 at the Westwego Performing Arts Theatre at 177 Sala Ave. in Westwego. Tickets range from $20 to $50.