Student athletes scored academically in fall semester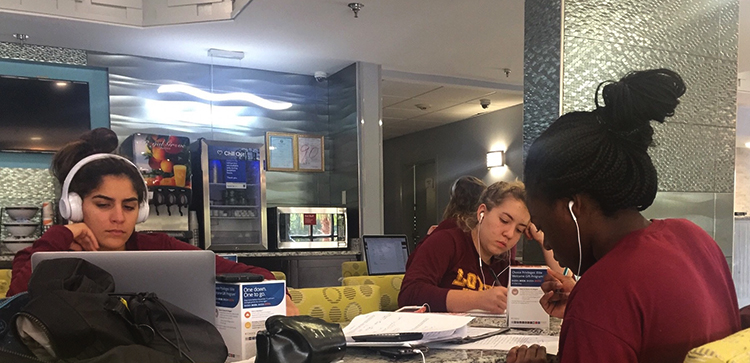 Loyola's student athletes enjoyed a high degree of success in the classroom last semester, showing why the word "student" comes before "athlete."
Some of the most notable accomplishments for Loyola's athletic department during the fall semester included 13 athletes who finished the semester with a 4.0 grade point average, the men's swimming team had an average GPA of 3.26 and the women's tennis team had an average GPA score of 3.38 – the highest among all men and women's teams on campus, respectively.
According to Kyle Russell, head tennis coach, academics come easily for his athletes, since he specifically recruits prospective players who show a willingness to not only perform on the court but in the classroom as well.
"We don't just try to recruit kids who want to go to college and play tennis and have fun, so that's a part of the equation, but right off the bat, we search for kids who have that priority. It's a lot harder to talk a kid into emphasizing academics, but if they already come in with that attitude, it actually makes my job pretty easy," Russell said.
Director of Intercollegiate Athletics Brett Simpson emphasizes that an athlete's decision to commit to play at Loyola goes beyond their four years in college.
"We tell our recruits that they are not making a four-year decision to attend Loyola. It is a lifetime decision, which will help them achieve their dreams in whatever they decide to pursue after graduation," Simpson said.
So what's the biggest key to success in the classroom for any student-athlete?
Russell said that the biggest key to success in the classroom for any student athlete is time management.
"There's just not a lot of free time when you're playing college athletics, so their ability to manage their time is going to be key to their success," he said. "If they do it well, they get good grades. If they do it poorly, they get bad grades. It's pretty straight forward."
And fortunately Russell said he doesn't have to employ too much supervision upon his players to ensure that the importance of academics gets across to them.
"We just set [academics] as a priority and a standard for them and expect them to live up to it. We don't babysit them too much. They're all adults. We do have study hall, but we take pride in always trying to have the best GPA," Russell said.
Simpson said the student athletes' academic achievements can be attributed to the Student Success Center.
"We have tremendous partners across campus. Our coaches communicate well with the faculty to monitor academic performance of our student athletes," Simpson said. "The staff at the Academic Success Center has been tremendous in assisting our student athletes who may need additional work or tutoring."
The academic success that Loyola's student athletes achieved last semester wasn't just a flash in the pan. According to Simpson, many of the athletic programs on campus are gearing up to experience even more academic success during the spring semester.
"We have an opportunity to achieve our highest GPA in 10 years if we can replicate our performance from the fall," Simpson continued. "We have a lofty goal of having all 18 teams achieve the NAIA Scholar Team Award by earning a 3.0 team GPA. Seventeen of our 18 teams are on track to earn that award this year."