Textbooks break students' banks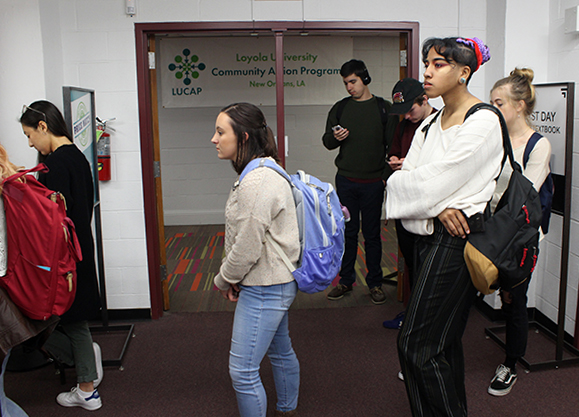 Purchasing textbooks can be one of the most dreaded necessities a college student endures every semester.
While there are some classes that don't require any books, most classes do, many of them requiring more than one book.
In an attempt to avoid high prices, many students opt to rent the books from the Loyola Bookstore or purchase or rent them online. However, the cost is still high, and it is possible for stock of rentals to run out at the bookstore.
Mariana Kendall, environmental science sophomore, is one of the many students who rents her textbooks.
"I usually rent from the campus bookstore, but if the book is too expensive, I go to a website like TextbookRush and rent it from there," she said.
The chart details a possible schedule of a Loyola freshman enrolled in five common curricular classes for a semester, the books required for those five classes, and the prices of buying and renting the books from the Loyola Bookstore.
In total, buying all new books for the possible freshman schedule is $539.34. If available, renting the same books in new condition is $386.50. Renting does save money, however, the books have to be returned by a specific date in usable condition.
Most professors do their best to help students spend as little as possible on books by assigning less expensive books or providing a less expensive way to purchase the books.
Everett Fulmer, philosophy professor, commented on the necessity of books and how price plays a role in choosing the materials for his courses.
"Books are required for college education. I choose books primarily based on content, which books have the material that needs to be covered in a course? If there is more than one solution to the first question, then price decides," Fulmer said.
"I feel like buying books is a necessary evil because even though they're expensive, you can't do well in many classes without the books," Kendall said.
Although there are many ways to obtain textbooks, there are no ways for students to avoid breaking their banks.