Dance Marathon sets fundraising record
It only takes two to tango but raising over $27,000 for charity takes a whole school.
Loyola's third annual Dance Marathon, hosted by the Student Government Association, raised a total of $27,347.57 for Children's Hospital of New Orleans. The event took place Saturday, April 7 through students who danced from 6 p.m. to 12 a.m. in the University Sports Complex.
Last year, Dance Marathon raised over $20,000 for the organization, greatly exceeding the set goal of $10,000. Following the success of last year's fundraiser, SGA increased the goal to $30,000. Although the dancing is over, fundraising efforts will continue until April 14.
Participants could dance individually or as part of one of Loyola's many student and Greek life organizations.
Johnathan Baudoin is a member of Pi Kappa Phi fraternity, which was one of the top fundraising teams. Baudoin said the best part of Dance Marathon was "having fun while doing it for a great cause and helping children."
The fundraising goal may have changed, but the rules of Dance Marathon stayed the same. There was no sitting allowed.
Loyola bands Colorblock, Lip Candy and DAVESTATEOFMIND provided live music, and Zumba, salsa and swing dancing classes were held throughout the night to help participants with two left feet keep grooving toward the goal.
Students were able to take swing dancing lessons, participate in games and win raffle prizes.
The Children's Hospital treats 66,438 children a year, according to Blane Mader, SGA vice president.
"My favorite part about this whole experience was being able to go to Children's Hospital and meet some of the amazing children who benefit directly from the money we raised" said Mader, who was in charge of organizing of the event. "Two of those kids, Avery and Adam, actually came to the event, so to see them smiling and dancing the night away with us just solidifies the fact that everything we do, we do for the kids."
Anderson Leal, director of outreach for the marathon, is a member of Hispanic Music Appreciation, which placed among the top fundraising teams. Leal said Dance Marathon helps strengthen the Loyola community.
"It's a way to bring our community together and really give service. That's what all our core Jesuit values are and this is a great example of what we do at Loyola," Leal said.
About the Writer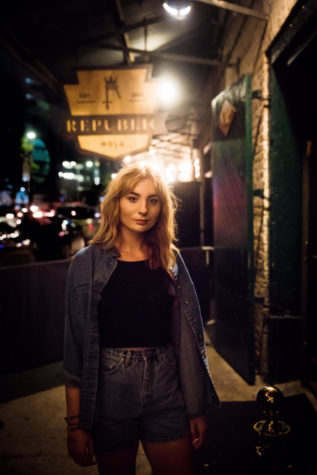 Catie Sanders, Life & Times Editor
Catie is a sophomore majoring in mass communication/journalism and a film studies minor. As the Life and Times editor, Catie aims to create a section that...