Loyola hosts Student Peace Conference
Jc Canicosa
April 19, 2018
Loyola's 10th Annual Student Peace Conference was the largest ever held. The conference, which ran from April 10 to April 17, was a week-long series of student panels to further community discussion about hope, renewal and global peace.
For political science sophomore Freedom Richardson, the Student Peace Conference gave him a chance to step back from personal accomplishments and see how important the progressive moment is to its community and look at what they can do better.
"This panel particularly, in regards to grassroots activism, allows me to be exposed to the work that other folks are doing, and it's extremely inspiring," Richardson said. "It's motivational for me. It makes me think 'what can I be doing more of, and how can I do more of it?'"
Richardson was a student panelist for the "Down and Dirty: A Grassroots Activist Panel" panel, representing "Indivisible," a progressive grassroots network of local groups to resist President Donald Trump's agenda.
History freshman Brittany Giardina and philosophy senior Thanh Mai worked as co-chairs for the Student Peace Initiative and put together the panels for the conference.
"As far as the conversations and Q and A's afterward, they were meaningful and productive," said Giardina. "It was interesting to hear the different perspectives between a student and somebody who does these things for a living."
History sophomore Claire McKenna was a student panelist for the "Chaotic Conflict and Turbulent Times" panel, where she discussed her paper, "1988 Massacre of Political Prisoners in Iran."
McKenna talked about how scholars, journalists and the legal community have ignored the massacre of political prisoners in Iran for the past 30 years until recently.
"My panel sparked really productive discussion on the Middle East, particularly on America's relationship with conflict. I gained a lot of new insight on these issues that I thought I understood." McKenna said.
Veterans also spoke out on the untold horrors of war in the panel "War is Hell." Jamie McFarland discussed the conflicts and struggles of being transgender while deployed in Afghanistan.
"The military helped turn a boy into a man and a man into a killer. It wasn't until I realized I didn't want to be a man in the first place that I could just live my life and try my best to become a strong, independent woman. " McFarland said.
McFarland began transitioning to become a woman about 3 weeks ago, she said.
"Overall, just giving you a glimpse at what these parties were facing, socially and politically, and then being able to have folks that are directly impacted by those social and political issues share their stories with the Loyola community has been extremely impactful. And hopefully they'll convince people to get involved and get engaged." Richardson said.
About the Writer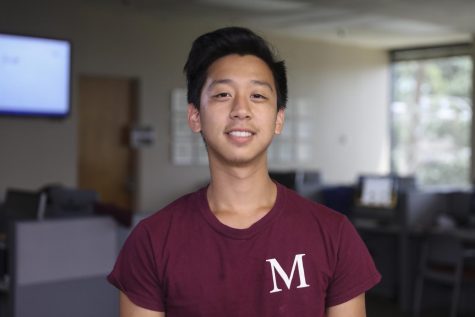 Jc Canicosa, Op-Ed Editor
JC Canicosa is the Op-Ed Editor for the Maroon and a senior at Loyola. He has also served as the Sports Editor, Breaking News reporter, Foreign Correspondent...