Bands say goodbye to summer, hello to Gasa Gasa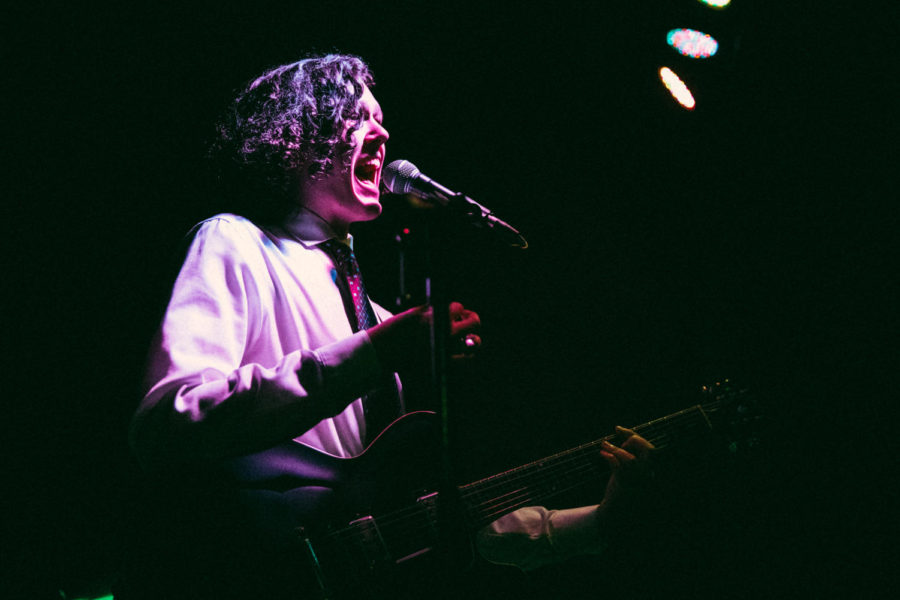 Natalie Tavares
September 24, 2018
As summer comes to a close and longer, cooler nights approach, it's back to business for Loyola sophomore bands Goblin Marquette, The Canarys and Colorblock. What better way is there to kick off fall than by denying the end of summer?
The Denial Party held on Tuesday, Sept. 18 at Gasa Gasa featured nostalgia for the sunny days, decked-out summer gear and crazy talented tunes from Loyola student bands.
Goblin Marquette opened the show, and although it definitely was not their first rodeo, it was their first time playing at Gasa Gasa and their biggest show yet.
"This is definitely a next step," Goblin Marquette vocalist Emilia DiFabrizio, music industry sophomore, said of their Gasa Gasa gig.
Practiced and perfected at an apartment turned studio above a warehouse, Goblin Marquette is a melting pot of sound. The band combines classic rock, jazz, punk, and popular musical training styles accentuated with poetic lyrics, creating an alternative-rock vibe with a dark, heavy mood.
"We blend all those influences to create our sound," states Grace Hawkins, music industry sophomore, Goblin Marquette's saxophonist.
The Canarys are another band of sophomores cultivated within the Loyola music scene. They performed second at The Denial Party.
Rock 'n' roll guitarist and vocalist Alexander Hollins, popular and commercial music sophomore, along with rhythm and blues based drummer Marco Saah, popular and commercial music sophomore, describe their music as aggressive, gritty rock with a touch of hip-hop that makes it groovy.
Hollins describes the sound as "danceable."
"(Our music is) not just something that rock fans and indie will be into but hopefully something that hip hop fans and pop fans can get into," Hollins said.
Colorblock brought the show to a close with their neo-soul, psychedelic waves.
Founded during their freshmen year, Colorblock sprang seemingly out of nowhere. They recorded two songs during their first jam session together, and they have been making music ever since.
Featuring five music industry students consisting of a bassist, two guitarists, a drummer and a vocalist and trumpeter, Colorblock aims to create a sound unlike any other.
"All our frustrations, all our wild thoughts that come to our minds, all our ideas that are too crazy and too out there, we just all want to put it into one song," Sebastian Duzian,music industry sophomore, the band's bassist, said.
The band draws from indie, new wave, and math-rock influences, and has a unique, experimental sound that fosters a community of musicians.
"Everyone's a musician and they all use their instruments to contribute to the song as a whole," Duzian said. "It's like a communal thing, not centered around one person."
The bands are just one aspect of concert experiences such as The Denial Party.
"One is not without the other," said Saah, who agreed that a supportive crowd is crucial to making The Denial party a successful experience for both artists and the audience.
The bands expressed how a supportive crowd can make a show infinitely greater for everyone involved.
"We're bringing it and we're doing it but it does not happen without people giving their feedback and their response," said Hollins.
A supportive community, like The Denial Party crowd, helps the bands grow, according to Duzian.
"The more people keep taking us seriously the more we take it seriously," Duzian said.