'Women in Music' panel encourages gender inclusivity
It seems rare for a room full of music industry professionals and students to be female dominated. And that's exactly why Loyola hosted a "Women In Music" panel Nov. 28.
The panel was part of the university's ongoing "Not Your Mother's Lecture Series," designed to promote gender inclusivity and equality in creative, male-dominated fields.
"This whole initiative stemmed from a desire for there to be more female influences in the entertainment industry," said Katie Bandy, assistant director and career coach for Loyola's Student Success Center. "For the female students at Loyola, specifically in these programs where there is a male dominated industry, we want to be able to provide them opportunities to network with established females in the industries they are hoping to be in."
For Beth Cohen, music industry studies junior, the panel provided an opportunity to see her own potential for growth as a female in the entertainment industry. Cohen said the panel encouraged her to continue pursuing her passion despite gender related setbacks.
"Sometimes it's rough to be in a lot of classes and spaces that are male dominated, because it's hard to find people to confide in and understand what it's like," Cohen said. "Talks like this make it more encouraging to show that women do stick it out. Sometimes I feel like even I'm not going to."
Feeling discouraged by the "boys club" that is music industry, Cohen said, is a weekly occurrence. That sentiment was shared by panelists and students alike. They laughed and groaned over stories of mysogynisitic experiences, such as being called "little girl" by a coworker or getting payed significantly less than a male counterpart doing the same job.
One of the panelists, Tiffany Lamson, said despite being lead singer of the band GIVERS, venue bouncers often assume she is the girlfriend of a male band member.
"It feels weird, and it's lonely. And sometimes I feel alienated," Lamson said. "You have to learn your art skills so hard that no one can screw with you."
Though a handful of male students attended the "Women in Music" panel, music industry senior Gracie Palmer hopes more of her male peers feel encouraged to attend future events perceived as only for women.
"I do think that men could feel discouraged to attend something like this because in their minds, it seems like it's for women," Palmer said. "But that's not the point of this kind of talk. It's to educate everybody on gendered issues and to be able to educate men on issues they would not otherwise know about because it isn't an experience they have to face."
All four panelists agreed there needs to be a push for more female students to enter the industry, and they discussed ways they individually contribute to growing the number of women in the workforce.
"I always want to pay it forward," said Alex Diaz, a panelist and professional sound engineer. "Men and women, yes we're equal, but I'm going to pick a woman for a job every time. I think it's okay to give each other a head start every once in a while."
About the Writer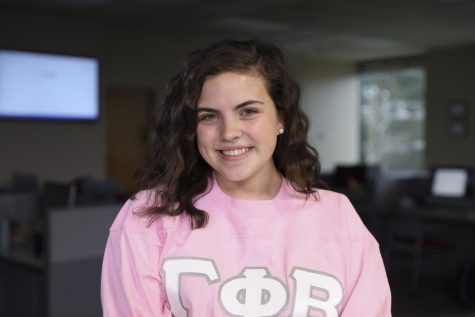 Emma Ruby, Projects Editor
Emma is a mass communication junior from Arlington, Texas. This semester she serves as the projects editor and has previously been a staff reporter, news...