Freshman athlete wins Player of the Month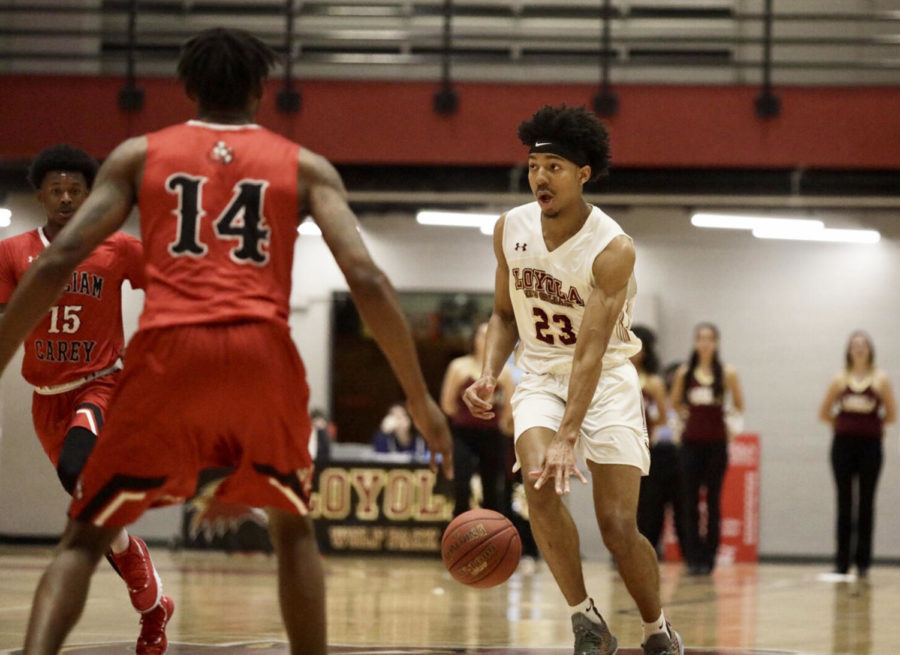 Tess Rowland
February 14, 2019
For the first time in 12 years, a Loyola athlete has been honored with the Greater New Orleans Amateur Athlete of the Month award for the month for January from the Allstate Sugar Bowl.
Mass communication freshman Zach Wrightsil was given the honor after a stellar 10 games through the first month of the year.
Wrightsil said, "When I receive this reward, I was surprised because of all the nominees that are judged and looked at for this type of award. It's really a blessing at the end of the day to be recognized for something like this and I'm nothing but humble about it."
The freshman has been playing hoops at a young age, hitting the court since he was in the fourth grade. Wrightsil brought his talents to Loyola earlier this year starting as a guard for the men's team.
Since then, he has been a force to reckon with as he leads the team in points, assists and double-doubles.
For the month of January, Wrightsil averaged 22.3 points, 8.9 rebounds, 4.2 assists, 1.8 steals and 1.8 blocks per game as Loyola went 6-4 in the stretch.
Wrightsil managed to attain his career-best, scoring 34 points in a Jan. 24 win over Florida College, and since then added six other 20-point performances over the course of the month.
In terms of being the first Loyola player to be recognized with the award in over a decade, he said, "It means a lot to me because it shows off the awareness of basketball that is rising at the school and it would not be possible without my teammates suiting up with me every night and putting me in the best position I could ask for to stand out."
Mass communication freshman Myles Burns, Wrightsil's teammate and roommate, wasn't surprised when Zach was honored with this award
"We are brothers now since the day we first met about a week before school started," Burns said. "He's a great dude and his energy matches mine so we get along great! That relationship translates on the court with our chemistry level very high because of that."
Head Coach StacyHollowell is excited about Wrightsil's hard work being recognized.
Hollowell said, "He has great passion for the game and his teammates have a lot of confidence in him."
As for the tone for the rest of the season, Hollowell said, "We have four regular-season games left before the conference tournament begins on February 27th and we are looking forward to a strong finish to the year."
And as for Wrightsil, he says the award is just the beginning.
"Sure, this is been a great first year experience and I have learned so much throughout the year and been recognized for the hard work that I've put in but I will have a long way to go in terms of success and I will be successful one day and it's going to come from me giving my all to the sport," he said.
For next season, Wrightsil plans on improving ball-handling and shooting, and to become, "more poised as well as, bringing my basketball IQ to an all-time high."
And as for aspiring athletes looking for advice on how to achieve success early on, Wrightsil says, "You have to fall in love with the grind because that's the only way you'll be successful is if you have a burning passion to get better every single day."
Wrightsil currently ranks 11th in the National Association of Intercollegiate Athletics in points per game at 20.2. He also is currently ranked third in the Southern States Athletic Conference in points per game, as well as seventh in rebounds per game, and fourth in assists per game. He is 10th in steals per game and seventh in blocks per game.
About the Writer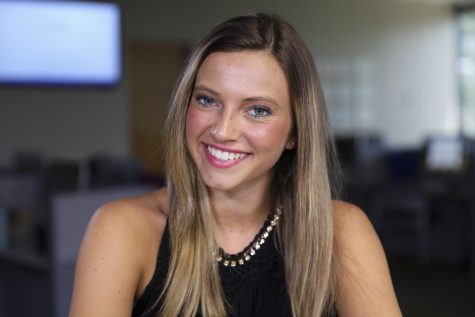 Tess Rowland, Wolf Editor
Tess Rowland is a mass communication senior from Fort Lauderdale, Florida. She is currently serving as The Wolf Editor. In the past, she has served as...