Filming on campus generates school spirit and revenue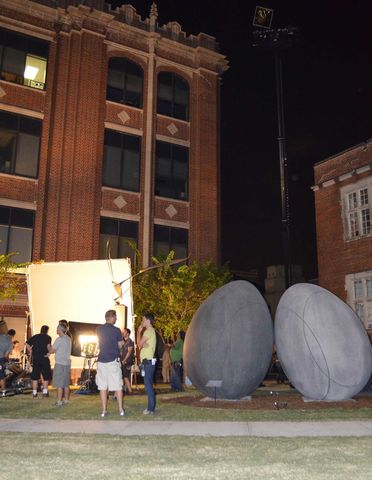 New Orleans has a long history of being a sought-after filming location. From the 1918 film "Tarzan of the Apes" to the Academy Award winning 2008 film "The Curious Case of Benjamin Button," the city has provided an idyllic backdrop of iconic architecture and hanging Spanish moss for a variety of Hollywood movies.
In recent years, Loyola has joined in the tradition of filming in New Orleans. The campus has become a movie set for blockbusters such as "22 Jump Street" and, most recently, the horror film series "Happy Death Day." It's also been used in the television shows "Scream Queens" and "American Horror Story."
Having the bragging rights to say that our university is so beautiful it was showcased in well-known movies is just one perk of filming on campus. In providing a filming location for producers seeking a college setting, Loyola fights against financial struggles and generates revenue for the university in an entrepreneurial way.
Loyola's economic struggles are no secret, but their entrepreneurial ways of restoring financial stability to the university are subtle genius. In the summer of 2015, the Presidential Advisory Group developed a Long-Term Financial Equilibrium Plan and issued a press release that recommended the University use filming opportunities as a way to generate revenue.
Since then, the most high-profile filming project to come to campus has been the "Happy Death Day" franchise. In a separate interview for the sequel, director Christopher Landon described Loyola's campus as the ideal university filming location.
"When I was scouting ("Happy Death Day"), I popped around to see a few cities, and looked at universities in a few different places and I really liked the feel of Loyola. It was manageable. It wasn't massive, which was helpful for us from a production standpoint, but it also just was a very pretty campus, and it offers a lot," said Landon.
The release of the first "Happy Death Day" in October 2017 was met with excitement from Loyola students. The Prytania, a beloved uptown historic theater, offered a showing with free entry for anyone with a Loyola University ID. Members of the Wolf Pack waited outside in a line that stretched down the block and around the corner. When the movie opened with an aerial helicopter shot of the university, everyone in the theater clapped and cheered in camaraderie.
This moment was exemplary of the tight community and spirit Loyola boasts, despite the small size of our student body and campus. Projects like filming on campus bring us together and give us a chance to see our university on the big screen. They are also an out-of-the-box way to generate revenue for the university and support our institution.
By contributing to the century-old tradition of filming Hollywood movies in New Orleans, Loyola seizes the opportunity to increase our income and show off the beauty of our campus on the big screen. Students should rejoice when we see film cameras and sets on campus. It means that our university is bringing in money, and, if we're lucky, we may get to be an extra in the next blockbuster.