6 Greek life organizations appeal social probation
After a week of reviewing plans to improve the future of their chapters, Loyola's Greek life organizations have been given the opportunity to regain their social privileges.
In early January, it was revealed that eight of the Greek organizations on campus were put on a temporary social probation due to errors within their standards of excellence reports.
The standards of excellence are a tool used to track the performances of Loyola's Greek organizations, according to director of Student Life and Ministry Dale O'Neill.
"This program rewards chapters with monetary and social incentives to develop, participate in and report quality programs to benefit the Loyola and greater New Orleans community," O'Neill said.
According to Assistant Director of Fraternity and Sorority Life Chris McQueen, chapters must provide documentation of the progress made throughout the semester as a part of the standards of excellence reports.
"They record their community service hours or dollars, risk management trainings that they give to all of their members and new member retention," McQueen said.
To get off temporary probation, the chapters were all given the opportunity to go through an appeals process and fight the decision. McQueen is not allowed to participate in this process, leaving the decision up to O'Neill.
"Because I grade them, I don't sit in the appeal process for bias reasons," he said.
According to O'Neill, six out of the eight chapters put on temporary probation decided to appeal the decision.
O'Neill chose not to reveal the names of the organizations.
"I have expressed to the chapters that for the fall 2018 semester, rankings and scores of chapters who did not receive a gold, silver or bronze recognition will not be published by our office," O'Neill said.
As a part of the appeals process, either the chapter president or vice president had to meet with O'Neill providing a detailed action plan describing how they planned to meet the standards of excellence this semester.
O'Neill said she was impressed by the performance of all the chapters in their one-on-one meetings with her.
"They were all prepared, professional and understood the importance of having minimum standards for Fraternity and Sorority Life on campus," she said.
All of the chapters involved in the appeals process passed. However, these organizations are not in the clear just yet.
To be officially taken off of their temporary probation, the chapters must meet and turn in their standards of excellence reports by 5 p.m. on March 1.
As part of the standards of excellence, each chapter must receive the rating of "expected" in the categories of Chapter Management, Membership Development and Community Involvement earning 38 points or higher in each section.
"The chapter must provide documentation of meeting these requirements to our office," O'Neill said. "If the chapter submits documentation prior to March 1 and meets the 'expected' points in each of the three categories, the chapter can be removed from social probation prior to March 1."
O'Neill said that she hopes a situation like this one will never happen again and that chapters will work hard to meet the standards of excellence.
"To achieve this, chapters will need to continually review the (standards of excellence) document throughout the semester and verify that they are documenting meeting criteria," she said. "Often chapters were doing excellent work, but did not submit appropriate documentation to verify this."
O'Neill also said that the office of Student Life and Ministry would begin to play a more significant role in working with chapters on meeting and improving the standards of excellence.
"Moving forward, we hope to continue to clarify the requirements of (standards of excellence) through one-on-one meetings with presidents and (standards of excellence) training," she said. "We also plan on implementing an annual process for chapter presidents to review (standards of excellence) and pose changes that would be voted on by the chapter presidents at one of their monthly presidents' meetings."
Chapter presidents and vice presidents were asked to comment on the appeals process but chose either to decline or refuse to answer.
"After giving it some thought and weighing the pros and cons, I have decided that I'm still not entirely ready to speak on the issue," one chapter president said. "While the appeals process is over, there is still work to be done in getting organizations off of social probation. So, we're not entirely out of the woods yet."
About the Writer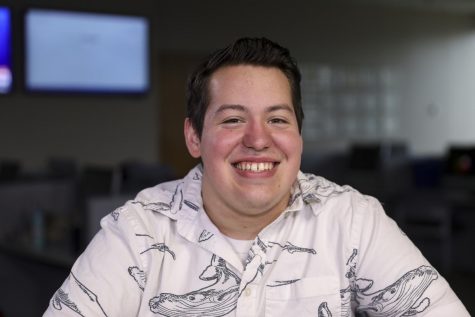 Cody Downey, Reviews Editor
Cody Downey is a mass communication senior from New Orleans, Louisiana. He is currently serving as the Reviews Editor. In previous years, Cody held positions...