Loyola students make money in the market despite turbulent week
Hang on for a minute...we're trying to find some more stories you might like.
While the world was sweating watching last week's tumultuous market, a group of Loyola students saw an opportunity to make more money.
The College of Business operates a student managed investment fund of $1 million in real funds — a fund which, though technically at risk in the market, actually managed to earn money when the financial markets were going down, according to business professor Mehmet Dicle.
"We teach our students how to turn market volatility into our advantage and into profits," Dicle said in an email.
The fund, which is open to all Loyola students, is now beating the Dow Jones Industrial Average with positive returns on invested funds for the third year in a row. According to Dicle, the higher the volatility, the higher the profits.
To be prudent, 71% of the portfolio is kept in cash, bonds and bond-like securities.
Despite Loyola's success, the U.S. saw a week where the Dow Jones Industrial Average had four days where it rose or fell by more than 300 points — with an 800-point drop thrown into the mix.
Stocks, bonds and other investments heaved up and down throughout the week, with worries hitting a peak mid-week when a fairly reliable warning signal of recession flipped on in the U.S. Treasury market.
Professional investors caution that this kind of turmoil is actually normal for the market, when looking at it from a very long-term point of view. The U.S. stock market historically has had such bursts of tightly packed volatile days, interspersed between longer periods of calm.
Dicle offered two contributing factors for the current volatility in the market.
"First, our president is imposing tariffs on imports from China," Dicle said. "Second, the economy is not growing as expected."
President Trump's tariffs have increased the price of Chinese imports, thus affecting their sales in the U.S., according to Dicle. This then requires companies that import Chinese goods to sell those goods for higher prices—lowering their earnings potential.
"If we expect companies to earn less in the future, then we pay less for their stocks," Dicle said. "So, stock prices tend to go down."
As for the drastic upturn in the market, Dicle credits lower interest rates.
"In order to stimulate economic growth, the (Federal Reserve) lowered the interest rates to make borrowing cheaper," Dicle said. "The more people borrow, the more they spend. More spending leads to more corporate sales and earnings."
Thus, when companies are expected to earn more in the future, people are willing to pay more for their stocks, resulting in rising stock prices.
Dicle said that investors tend to disagree on the impact of financial and economic events on stock prices which can lead to fluctuation.
"During any trading day, investors trade stocks based on their expectation of corporate future earnings," he said. "If there is disagreement among investors about the impact of financial conditions, then stock prices move up and down."
Dicle assured that this level of constant change is normal. However, when the price movements become too large, it can scare investors, causing them to stay away from large investments.
More frequent disagreement on financial impact leads to frequent price volatility.
Last week's 800 point drop in the Dow Jones is equivalent to a 3% drop in one day. According to Dicle, if that is compounded to 200 days, it would equal a 350% drop a year.
"That is big," Dicle said.
Loyola's status as a non-profit institution means the university has some immunity to economic fluctuations. As for any direct effects on the university, Dicle said it would be business as usual at Loyola.
"Our students should be prepared for a professional world where finance is up front and center," he said. "We probably will emphasize the importance of experiential and applied finance education more at Loyola."
The Associated Press contributed to this report.

About the Writer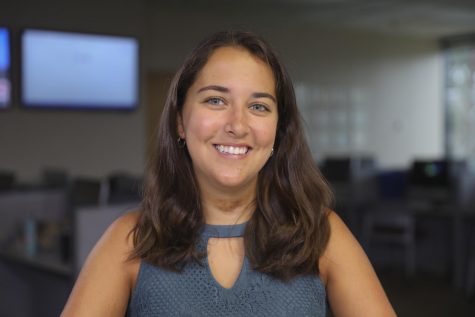 Erin Snodgrass, Editor-in-Chief
Erin Snodgrass, mass communication senior, is excited to be serving as Editor-in-Chief of the Loyola Maroon this semester. She has previously worked as...