New Father joins Mission & Identity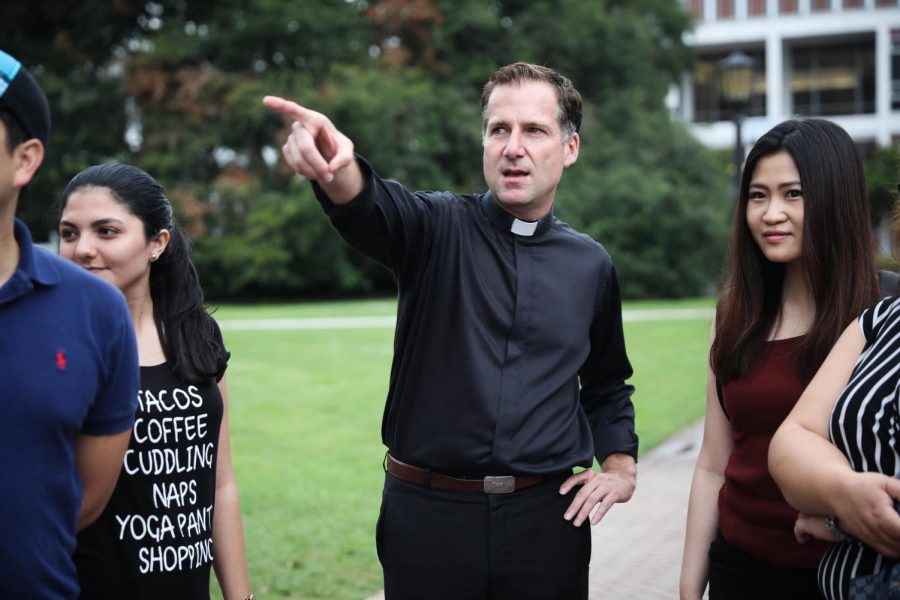 Georgett Hernandez
August 31, 2019
Rev. Justin Daffron, S.J. had only been living in Biever Hall for a week when a student took notice of the bike sitting outside his room. The bike had a flat tire, and a handwritten note was slid under Daffron's door that said "if you need a kit to fix your flat, please come down to the room 249. I have one for you to borrow."
That was when Daffron, the new vice president for Mission & Identity, knew he'd made the right choice in coming to Loyola.
"I thought that that example illustrates what's best of Loyola, that we're a community desiring to help each other and to support each other. And so I was grateful for that," Daffron said.
Daffron is the successor of the Rev. Ted Dziak, S.J., who stepped down from the position after 10 years to take a year long sabbatical.
Despite having large shoes to fill due to Dziak's prominent presence on campus, Daffron said the people he has met at Loyola have played a critical role in welcoming him to New Orleans.
"The people, to me, are the best part of Loyola. And I say that because my experience today has been people are generous, kind and creative," Daffron said.
Daffron also hopes to bring his own presence to Loyola.
"I would hope that I could bring a presence that's kind, warm, encouraging and challenging," he said.
While he is new to New Orleans, Daffron is no stranger to Louisiana. Born in Dallas, TX, he spent a large amount of his religious education at various schools across Louisiana. He also studied in St. Louis, MO, and Berkeley, CA.
Despite his experience studying across the country, Daffron says he relates to first year students on campus because he is also adjusting to being away from friends and family.
"I feel very connected with the first-year students because I think we're going through a lot of the same challenges that will help us to grow, become stronger, and develop new friendships here at Loyola," Daffron said.
Other experiences that Daffron feels have been enriching in preparing him for the move are a recent 30-day spiritual silent retreat, and the opportunity to do service work in Tijuana, Mexico.
"[I was] working at the border in the Casa de Los Pobres, with women and children who had gotten stuck at the border," Daffron said.
Moving away from these experiences into a new year, Daffron said his primary focus is the mission priority examen, which acts as an institutional reflection on the Jesuit culture on campus and will be taken throughout the 2019-2020 school year in stages.
"The primary focus right now is the mission priority examine," Daffron said. "This is a year-long self-study that allows us as a university community, to take a deep dive into our Jesuit Catholic identity, and to look at our strengths and opportunities for improvement.
The purpose of this exam is to help the school develop five to seven improvements that will enable the school to continue to strengthen its Jesuit Catholic identity, Daffron said.
When looking for the next step in his career, Loyola was one of five facilities that reached out to Daffron. He said he chose Loyola for many reasons, one of which being because he felt it was the place where he would be able to make a change, while also feeling at home.
The leadership of University President Tania Tetlow was another strong factor in drawing in Daffron.
"I wanted to work with President Tetlow who inspires me because of her leadership, her commitment to Loyola and her desire to continue to strengthen our Jesuit Catholic values," Daffron said.
He also felt that coming to New Orleans would be a chance to fully immerse himself in the Jesuit foundations he has spent his life studying.
Looking forward to this year, Daffron said he hopes to focus on promoting his belief that it takes everyone to create a better world and that the Loyola community has what it takes to make the world a better place.
"We together create better soil. I think it takes each one of us sharing our unique gifts and talents, and that will allow each one of us to shine in a way that we become a better place," Daffron said. "I look forward to the coming year to see the talents of students shining from music, to newspaper, to student government, to classwork. I love being at a university because there's so much hope, because of the talent of young people."
About the Contributor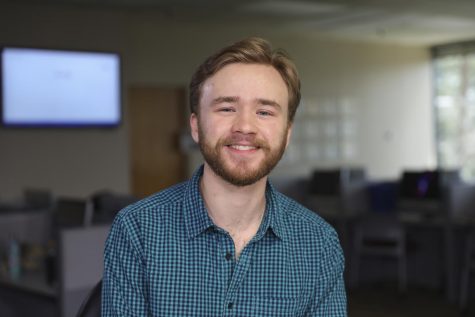 Michael Bauer, Managing Editor for Print
Michael Bauer is currently a Trumpet Performance major in his senior year, serving as the managing editor for print. Previously The Maroon's photo editor...