O'baekey reflects on debut album 'Portaits'
Urban and electronic music production junior, Owen Patrick Baekey, 'O'baekey', debuted his first-full length hip-hop album, "Portraits", on June 19 and announced the release of a deluxe version dropping this September with four new tracks.
The project was produced and engineered by music industry studies junior and jazz guitarist, Wyatt Pinto. It also features Loyola music industry studies singer Kennadi Rose, alumnus vocalist Soleille and rapper Sixo.
"I can talk about getting my life together without having to be depressing and lame. It's a self-help song while getting people to turn up," he said about the song.
With a background of 10 years writing poetry, O'baekey wrote every word on the album, accomplishing an upbeat sound while relying on his idea to "make music fun, playful and juxtaposing truthfulness," he said.
O'baekey's album began production in August and lasted for 11 months, finalizing two weeks before its release on streaming platforms.
O'baekey cited his love of New Orleans as inspiration and a place where he feels inspired and motivated. Influenced by '80s and '90s styles of hip-hop, the album was entirely recorded in Pinto's bedroom studio.
The rapper's art is brought to life by the sample-based beats created by the producer.
"Wyatt is my god because he's a jazz musician; I get to play around with his ideas of song structures, what musical freedom is and what melodies are," O'baekey said.
He said he hadn't heard crazy jazz structures until he came to New Orleans, where he listened to the genre for two years. After that, he decided he was ready to create the old school hip-hop inspired record with jazz references.
Working with fellow peers at the university is another motivator for the rapper. Rose sang on two tracks, "F*** Your Friends" and "Portraits." The singer hits high notes with her voice and is on the hook for the title track.
On "Worms", O'baekey features 2020 graduate black noise artist Soleille, who specializes in rap, R&B singing and African styles of music.
Other features include Loyola rapper Sixo on "Paxson's Shot" and Baltimore artist Jayy Grams on "Industry Rules."
"I want to do more stuff with everyone that's on the album. They're all so good it's crazy. All my homies are talented", he said.
Besides his peers, he credited knowledge gained from taking classes such as History of Urban Music taught by Melissa Weber and the Urban Contemporary Ensemble led by iconic Southern rapper Mia Young, better known as Mia X.
The artist believes in paying attention to the cultural context of his identity in the rap game, quoting one of Mia X's moments in class.
"She said that people can tell when an artist is not being authentic. If you're dope, you're dope and that's what matters. You can tell when someone is faking it and when someone else has intent and respect for the culture," O'baekey said.
O'baekey develops his own style by emulating his favorites, naming Ghostface Killah and Kanye West. His background experience in poetry is reflected in the mentions he made to the techniques such as double entendre and puns in bars.
"Hip-hop is taking from something else and making it your own. I love listening to my favorite rappers and trying to outrap them on their beats, or make it my own," O'baekey said.
Leave a Comment
About the Contributor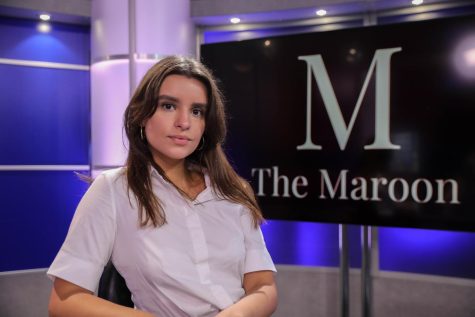 Valerie Cronenbold, Life & Times Editor











Valerie Cronenbold is a senior with a double major in Mass Comm Journalism and Music Industry Studies. Born and raised in Bolivia,...