Conservative group tables in Danna Center, student cites racist beliefs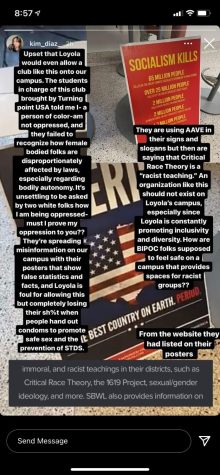 A group of students representing Turning Point USA, a conservative non-profit organization, were tabling in the Danna Center on Wednesday, Sept. 29, according to a social media post made by international studies senior Kim Díaz.
Díaz's story post said the organization's flyers were spreading misinformation, including false statistics and facts. The students, who were White, told Díaz, a female-bodied person of color, that Díaz was not oppressed, according to the post. 
"An organization like this should not exist on Loyola's campus, especially since Loyola is constantly promoting inclusivity and diversity," Díaz said. "How are BIPOC folks supposed to feel safe on a campus that provides spaces for racist groups?"
Díaz considers some of the beliefs listed on Turning Point USA's website to be racist and sexist, according to the story post.