Students utilize Iggy's Cupboard post-Ida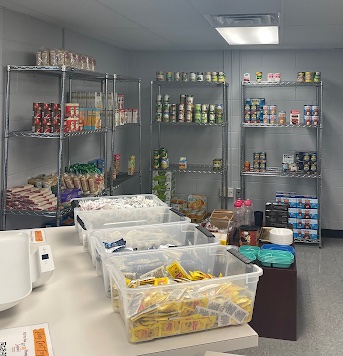 Jacob Krug had been living in Carrollton Hall for one week before Hurricane Ida forced him from his dorm in late August. He, among thousands of other locals, evacuated to Houston and stayed with his roommate to outlast the storm.
Since returning to New Orleans, the junior English major has been struggling with food insecurity. 
"We had to throw out all the stuff in the fridge," he said.
Fortunately for Krug and numerous Loyola students, they don't have to go far to get help courtesy of Iggy's Cupboard. 
Iggy's Cupboard is a food pantry on the lower level of the Danna Center that provides food, hygiene products, school supplies, and more to students. University Minister for Justice and Immersion Jacob DeRusha worked with Student Life and Ministry to support the students as much as possible before and after the hurricane. 
"Iggy's Cupboard is free of charge. Just pop in and grab a bag and fill it up with whatever you might need," DeRusha said. 
DeRusha said that Havoc's Help Desk offers meal swipes at the Orleans Room for students that may need them as well.
He noticed an influx of students coming to the pantry after Hurricane Ida, many who had evacuated to Spring Hill College. 
"These students came back a little earlier than the rest of the students (and) initially needed the most in terms of food," DeRusha said. "Now that more students are coming back in, there's definitely a need."
Students like Krug are facing food insecurity after Hurricane Ida and struggling to restock their refrigerators.
"I'm very poor, so it's hard for me to afford food outside of just using the Orleans Room," said Krug. He applied for a federal emergency grant offered by Loyola in search of food assistance, but he was rejected because Loyola did not have "available funds… to meet the overwhelming need of the community," according to an email sent to Krug by Financial Aid. 
Krug said that he plans on visiting Iggy's Cupboard soon to see what it has to offer.
Resident assistant Shamaria Bell was unprepared for the severity of the storm, and their refrigerator paid the price. 
"I actually had to get rid of a lot of food because a lot of it was perishable. I wasn't expecting it to be a big storm," they said. 
The senior sociology major hasn't been able to buy groceries since returning to Loyola, and they rely on campus options for meals.
"I've kind of been scraping by on things that are open on campus, whatever lunch meat and stuff is in the Market and Iggy's Cupboard," said Bell.
As a resident assistant and full-time student, Bell helps resolve the food-related problems their residents are facing as well as their own. They said that students returned to campus and found that food worth keeping was thrown away by janitorial staff. 
"People's Tupperware containers got thrown out. They may have had some things that were important to them that were thrown out or things they thought they could save," Bell said.
Bell has taken advantage of what Iggy's Cupboard has to offer in the past and will continue to do so post-Ida. 
"I would say they have the basic needs," they said. "I go there as a last resort a lot of the time."
Iggy's Cupboard is a resource that Bell will share with residents who are dealing with food insecurity. 
"It's one of the main resources that I feel that we push a lot just because meal plans and Wolf Bucks are always a sticky situation on any campus," Bell said.
There are a few rules for shopping at Iggy's Cupboard. Students can take two bags, fill one with food products, and fill the other with hygiene products. After grabbing everything they need, students must weigh their bags and log them.
Students can make an appointment for a 15-minute slot to shop at Iggy's Cupboard at calendly.com/iggys-cupboard/shop, or they can stop in when a student worker is present.
DeRusha recommended that people donate nonperishable snacks like granola bars, fruit snacks, cereal, and almond milk. Vegan and gluten-free options are needed as well. To donate, students can drop off food for a student worker to shelve or email Jacob DeRusha at [email protected] to schedule a drop-off time. For monetary donations, visit spark.loyno.edu/iggyscupboard.