Latine artists celebrate their heritage
Latine creatives at Loyola said they use their culture to inspire themselves and each other to become better artists. Making a statement with their art and being passionate about social justice has become a part of the celebration of their heritage, the artists said.
New Orleans is known for spaces filled with artists, but for many professionals, university is where they started to create. Those in the Latine body at Loyola say that the community that comes from creation is even more powerful.
Valeria Santini
Valeria Santini, graphic design senior, said that before Loyola she never saw herself as an artist.
After having a self-described "identity crisis" when she arrived in New Orleans from Puerto Rico, Santini latched onto and found a passion for graphic design that she combined with her dedication to social justice.
Santini aspires to bring an artistic approach to communications and nonprofit work. After taking a political art class at Loyola, she realized that her talent and love of her community could be intertwined. She's the director of design at a Puerto Rico-based nonprofit, Sin Limites, that focuses on bringing education and materials to disadvantaged communities.
"There's so much political art in Puerto Rico," Santini said. "It's everywhere. I feel very happy about where I come from."
Erick Guerrero
Straight from El Salvador, sophomore graphic design major Erick Guerrero is also known as "Nueve," what he also named his clothing brand founded in TKTK. Guerrero, an international student, started working in fashion when he was a junior in highschool. He is inspired by streetwear, niche subcultures, and his family's resilience and culture.
"I had to make my own path in life while being questioned, judged, looked down at, and seen as an outsider and misunderstood by my parents and community," said Guerrero.
Guerrero said that his clothing brand and art is his life and sole means of income; he designs everything, makes all of the logos, and handles all of the shipping. He tries to get involved in the communities and cultures he draws from, intertwining their ideas with his own. When he did a skate-inspired line, he started skateboarding to fully understand skate culture and honor it in his work. Guerrero's latest release was a summer collection, and he's currently in the process of releasing his first women's collection.
"My clothing brand and everything I do with it is my lifestyle," Guerrero said.
Michael Lardizabal
Michael Lardizabal, a digital filmmaking junior, works in filmmaking, he also works in photography, graphic design, poetry writing, screenwriting, and runs his own clothing company. With a mixed bag of passions and inspirations, Lardizabal considers himself a creative, rather than an artist.
Early in his film career, Lardizabal worked as a translator on a film, "Blue Bayou," that made it to the iconic Cannes Film Festival. Ladizabal found his passion for film in his first love, poetry. He wanted to merge his literary prowess and love of the visual arts into one cohesive medium: film.
He's continued his passion recently by releasing his first short film, "Roads Diverged" and expanding his clothing brand, Hot Garbage Apparel.
Libre Albedrío, a South and Central American literary movement about transcending cultural and societal norms inspires Lardizabal. He's most fascinated by the role of the Roman Catholic Church and machismo culture. He said he's intrigued by the contrast between community and culture in Honduras and New Orleans.
"In the states, it's a lot more prevalent to have a culture that prioritizes the individual, versus a more communal nature where I'm from," Lardizabal said.
Roux Fernandez Melguizo
Roux Fernandez Melguizo, an international history senior, is a queer Colombian visual artist and musician who uses their art to tell the stories and struggles of queer immigrants and people of color. Melguizo, who uses they/he pronouns, makes political art inspired by radical leftist politics, queer liberation theory, and their experiences as a nonbinary, butch lesbian.
"There's no one like me for me to look up to," Melguizo said, adding "so I became my own inspiration."
Melguizo immigrated from Colombia to rural Minnesota as a child and became immersed in local culture. Inspired by their Colombian roots and gender identity, Melguizo began to create pieces that depict unapologetic queer, transgender love.
One of their pieces depicts two gender ambiguous lovers pining for each other, one draped across the other's lap. Melguizo said their art transcends the binaries of gender and sexuality that constrains western nations.
Melguizo said their style can be cartoon-like and fun but deals with intense and controversial subjects. Their pieces are paired with short texts, demanding rights for workers, people of color, and transgender individuals.
"Art is about survival," Melguizo said. "Art is just a revolutionary tool."
Jose Hernandez
Jose Hernandez, a jazz studies junior, said he strives to be able to play anything and everything; he doesn't want to be limited to just one genre. His eclectic style draws inspiration from whatever a variety of sources: fantasy, politics, and personal experiences, he said.
"I didn't really have anything that I was passionate about until I started creating," said Hernandez.
Currently, Hernandez, who plays bass and guitar, has been writing about his frustration towards politics, sexism, and racism. He's been using music and writing to work through the recent loss of his mom, which he says has both hurt his motivation and made him more determined to write.
Hernandez says that his Latine identity has exposed him to more music than his peers, helping him create his distinct style. He has a background in salsa and merengue music that he says inspires how he makes music, whether it be rock, punk, metal, hip-hop, classical, or jazz.
Leave a Comment
About the Contributor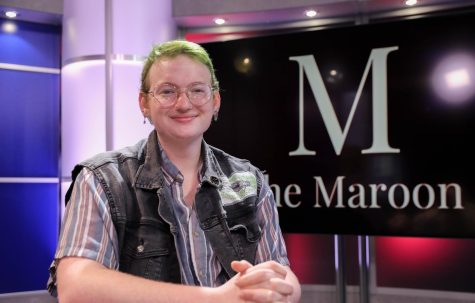 Oliver Bennett, Op-Ed Editor
Oliver Bennett is a mass communications journalism and sociology major from Dallas, Texas and Natchitoches, Louisiana. This semester, he's excited to...