Loyola celebrates Louisiana history at Crescent City Blues & BBQ Festival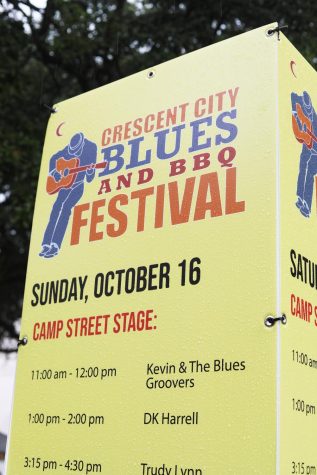 The Crescent City Blues and BBQ Festival, which took place Oct. 14 to Oct. 16, was a spot for local artists and bands to perform and for locals to enjoy food and entertainment.
With free admission, people from all around the city had the opportunity to see new bands, such as Charlie Musselwhite and Kenny Neal, as well as appreciate local artists and vendors, according to the event website.
Loyola professor of popular and commercial music Mia Borders performed at the event.
"This festival has a nice mix of local music and national acts, so it's nice to be included and represent my hometown," Borders said.
Artists held booths selling paintings. Others sold instruments, such as guitars and keyboards, and many presented jewelry. There were also a couple of clothing spots, one of which sold clothing and accessories made out of ties.
Local food venders, such as Brocato's Catering and Crescent City BBQ, offered some barbecue treats, including wood-smoked ribs and BBQ oyster po-boys.
"It's fun, and it's good for the family," Borders said.
Freshman criminology major, Alannah Pelotte, got to experience the festival for the first time this year.
"There was something so warm and inviting about the festival. The music was really good, and it introduced me to the whole genre of jazz," Polette said.
Polette felt that going to the festival was a great way to be introduced to New Orleans culture, especially for Loyola students who are new to New Orleans, such as herself.
"It was interesting to be able to walk around and see so many people come together and share this amazing experience," Polette said.