Students cook for a cause when the 2011 Iron Chef competition returns to Loyola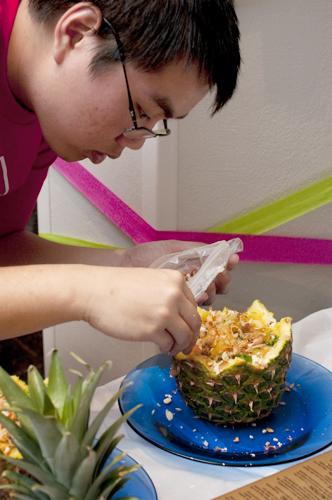 Renee Dottolo
April 14, 2011
The St. Charles Room heated up Tuesday night as seven southeast cooking teams brought a new meaning to fast food and battled it out to become the 2011 Iron Chef Competition winner, presented by the Loyola Asian Student Organization and sponsored by Tabasco.
The teams had one hour to cook an appetizer, entrée and desert that were judged based on presentation, creativity and taste.
As soon as the clock began to tick, team leaders rushed to the front table to grab their secret ingredient: pineapple, which had to be included in each course.
Everyone crowded around the tables to cheer on the teams as they rushed to finish their meals. As the minutes passed, the aroma of competition and cooking food filled the room. Everyone could feel the intensity in the air.
Each team worked together to finish their meal on time. The teams even danced to the music of DJ Audiofiend while preparing their food.
"We finished pretty early. We picked easy things to cook so we had time to fix our mistakes. Everyone had delegated tasks so we could get things done quickly," Student Government Association team member Lindsey Martin said.
Special guest judges included chef John Besh, chef Mike Gulotta, chef Jared Tees and Juley Thuy Le.
Besh said, "This food has been outstanding. I've been judging this for four years now, and the stakes keep getting higher each year."
Due to a miscount by LASO'S executive board, Loyola's SGA was announced as the winner of the competition. That count was soon overturned when participants noticed a discrepancy in the numbers.
After much deliberation, Tulane's Vietnamese Association placed first, followed by Loyola's Black Student Union, and Loyola's SGA.
The event featured a silent auction and culinary offerings for purchase from Dong Phoung. Proceeds raised during the evening were donated to LASO's spotlight charity, Blue Dragon Children's Foundation, and to the Japan tsunami relief efforts.
"We all come out here to have fun and meet up with old friends. We're all like a big family out here, so there's no hard feelings if we don't win. We're here for a bigger cause, to fundraise money for the tsunami victims in Japan," Xavier University Asian Association team member Thai Nguyen said.
The seven teams came from several different organizations from local universities. The teams included Loyola's SGA, the Xavier University Asian Association, the Tulane Vietnamese Association, Loyola's Asian Student Association, Loyola's Sunday Cooks, Loyola's Black Student Union and the University of New Orleans Vietnamese Student Association.
Renee Dottolo can be reached at [email protected]