Drinks Up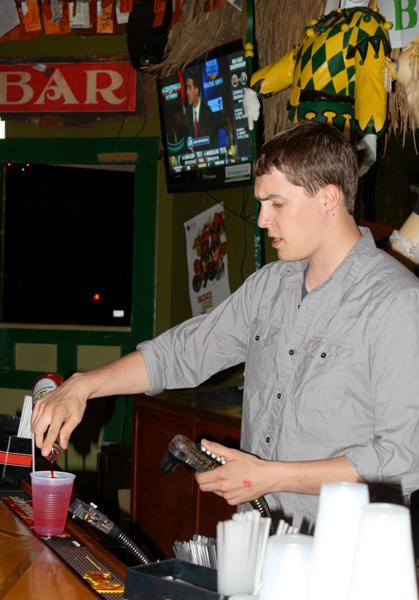 SHANNON DONALDSON Staff Writer
March 14, 2012
Hang on for a minute...we're trying to find some more stories you might like.
Ever wonder what life is like on the other side of the bar? For some Loyola students, bartending has provided the opportunity to work behind the scenes at area hangouts.
It's not uncommon for Loyola students to walk into a local bar and know at least one person on staff. Popular bars such as The Doors, The Palms, The Frat House, Monkey Hill Bar and The Columns have been known to provide familiar faces to Loyola customers.
One such bartender is Sam Senter, political science and sociology junior, who is a bartender at The Doors Pub and Pizza on Maple Street. According to Senter, the bars in the university area are unique in their staff.
"Where I'm from, you have to be 21 to even touch alcohol. Here, it's 18 to serve, 21 to drink," Senter said.
Although they often have to work when other students get to party, some student bartenders said they generally don't resent it.
"I don't go out much, but when I leave a bar, I leave with more money than I came in with. I get to host a party and socialize without spending money," Senter said.
According to Julia Gurney, mass communication sophomore and bartender at Monkey Hill Bar, working at a bar can be just as fun as going out.
"It's cool because you're socializing – that's your job. You're getting paid to hang out. It's not all fun and games at the end of the day, but as far as having a good time on the job it's pretty easy to do," Gurney said.
Chelsea Severio, psychology sophomore and bartender at The Frat House, said she enjoys bartending for the social benefits as well. Severio has had the opportunity to meet artists such as the Ying Yang Twins and Vanilla Ice when they have performed at The Frat House.
Depending on the night and number of staff members working, these bartenders can make anywhere from $100 to $500 in a single night. Generally, there is a base shift pay, and whatever the bartenders make in tips is added on to that amount.
But being a bartender isn't as glamorous as it may seem. Dealing with rude customers, cleaning dirty bar bathrooms and taking the risk of serving underage customers are just a few of the issues bartenders face on a daily basis.
"Bartending is not for everyone. It's definitely stressful because people get aggravated with bartenders easily, especially when they're drunk," Severio said.
For female bartenders like Severio and Gurney, dealing with drunk customers is even more of a problem – especially when those customers try to get to know them a little more than they should.
"You have to be nice to your customers but only to a certain extent. We draw in a lot of creepy guys, but I'm just like, 'OK here's your drink. I'm going over here now.' But I feel like that's anywhere," Severio said.
For male bartenders, this isn't as much of a problem.
"Everyone thinks bartenders are sexy. I'm not even being conceited, it just comes with the job," Senter said.
One problem that all bartenders face in the university area, though, is the constant presence of underage patrons.
"Bartending is a huge liability. Maple (Street) is a huge hive of underage kids, and that's a fact. There's always that weird looming feeling that there will be an undercover cop in the bar," Senter said.
Balancing school and work is also an issue for student bartenders.
"There have definitely been times where I've gotten off of work late and then I've had an assignment due the next day. Working at a bar doesn't always foster being a student," Gurney said.
Having friends as bartenders can have its perks, but student bartenders are quick to point out that this doesn't mean the rules don't apply to friends and acquaintances.
"Tip your bartenders, don't throw up in bathrooms. Those are the big ones," Senter said.
Shannon Donaldson can be reached at [email protected]