Swimmers race against the odds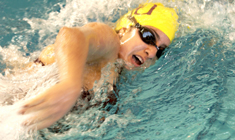 Despite great odds, the Loyola swim team walked – or rather swam – away with some solid showings at a meet in Tulane University's Reily Recreation Center on Saturday.
The center hosted its first Annual Mardi Gras Invitational meet with southern region schools, including the University of Miami, Georgia Tech, University of West Florida and Tulane.
Dan Holt, biology senior, and Michael Cowen, communications freshman, finished the 50-yard men's freestyle in just under a minute.
Leila Hannon, accounting freshman, finished third in the girl's 500-yard freestyle finals and seventh in the 200-yard freestyle.
The odds were set against Loyola on Saturday, because the team is small and does not have a coach.
"There were a lot bigger teams with a lot faster people, but everyone had the same respect," Hannon said. "It wasn't bad competition. It was all in good fun."
Hannon said that Loyola's swimmers were excited to be there and cheered for their teammates in every race.
"It's (Loyola) is pretty competitive. Not as much as high school since we don't have a coach, it's not as much pressure," Hannon said. "But we still have fun, and we get a lot of support from our team."