On display
Studio art and graphic design seniors exhibit projects in the Collins C. Diboll Art Gallery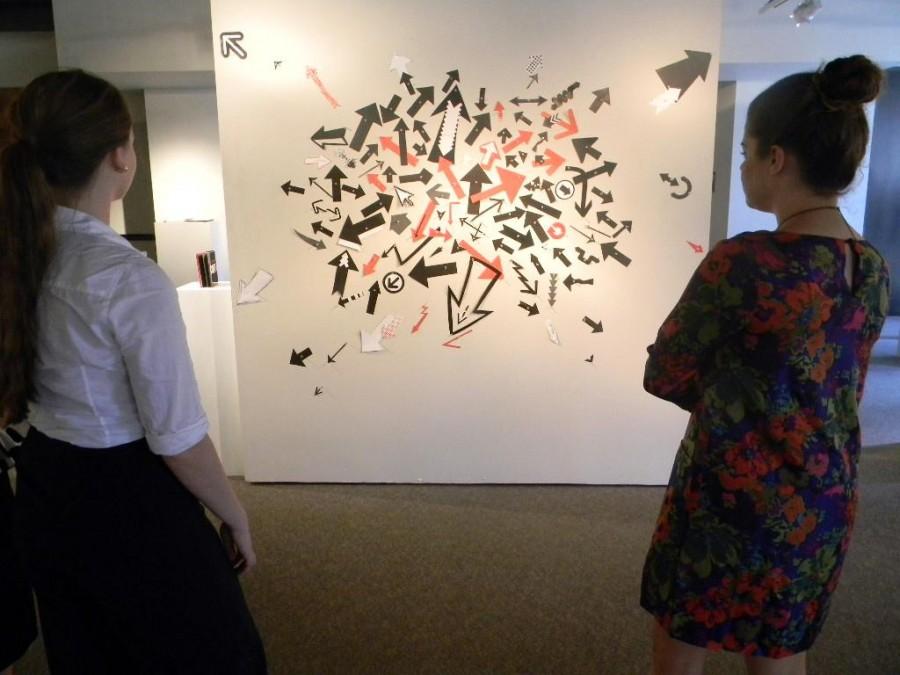 Nicole Luke, graphic design senior, has spent hours on end creating her final art project, and the day to exhibit is finally here.
Seniors, like Luke, in the Bachelor of Arts Graphic Design and Studio Arts programs, along with those in the Bachelor of Fine Arts program, are bringing their four years at Loyola to fruition in the form of their senior art exhibitions.
Following their Senior Capstone class on the Wednesday morning before spring break, the 10 graphic design seniors remained at work in their newly renovated lab on the fifth floor of Monroe Hall. Their exhibits include pieces that they designed throughout the fall semester, as well as a capstone project.
Luke said she has put more time in to the show than she can calculate.
"So many hours," Luke said. "We've been working on just the capstone for three months, and I've really never stopped working on it. Weekends, I'll continue to work on it, so all week really."
The three shows are held in the Collins C. Diboll Art Gallery located on the fourth floor of Monroe Library. The Bachelor of Arts Studio Exhibition opened on April 7, the Graphic Design Senior Exhibition follows on April 24 and the Bachelor of Fine Arts Studio Exhibition will round out the semester with its opening on May 5.
Mercedes Negron, studio art senior, said she found it rewarding that those who attended the Bachelor of Arts Studio Exhibition were able to gain a broader appreciation for different mediums and what is defined as art.
She said her pieces juxtapose the softness of crocheted yarn with the roughness of mechanical auto parts.
"I lost my father at the age of 9, and I always had a tough time getting over the grief and his absence. Since he was an auto salesman/mechanic, I used the auto parts as symbolic items of who he was," Negron said. "In the midst of gathering all the materials together and getting a first prototype done, the two materials started to create a balance to one another, from rusty to soft, dirty to elegant."
Though the graphic design seniors also pulled inspiration from their interests or personal lives, their capstone projects reflect the unified theme of "Contraflow."
"Contraflow, like hurricane traffic," Graphic Design Senior Rebecca Triana said. "We're focusing on the concept of what's opposite, or out of the ordinary. My parents are originally from Cuba and moved here. The Cuban government produces a lot of propaganda posters. So instead, I've designed anti-government propaganda. That's the contraflow. And everyone has a different theme within that idea."
Professor of Art and Design, Mark Grote said the Studio Arts Bachelor of Arts and Bachelor of Fine Arts exhibitions do not have an over-arching theme, but rather the students determine their own concepts based on personal inspiration or life experience.
"The exhibit was very freelance," Negron said. "I went with a strong concept, and I ran it with my professors. I always was intrigued with auto parts and was even thinking about pursuing a mechanic career, but I found my true passion in art instead."
Studio Art Bachelor of Fine Arts Senior Ricki Bratcher said that he had participants pull clips of dialogue from Monroe Library's old VHS tapes to reform into poetry in a piece called "Video Cento."
"This project reflects the technical skills I've learned in bookbinding and printmaking, as well as my growing involvement in community-based work. My professors have given me the tools and confidence to be able to put myself out there and ask others to join me in my art making," Bratcher said.
Eugenie McLellan, graphic design senior, said she created a chat speak dictionary called Webstr to explore how the shortening of the English language is contrary to human evolution and how teaching and celebrating something so casual is a type of "contraflow."
"Approaching the concept has been a challenge," McLellan said. "Usually when you're designing you're like okay, what goes with this? Does this look good? What matches this? But when you're working to go against the norm, it's kind of the opposite. What doesn't makes since? What's surprising? What goes against the grain or doesn't really go together? You kind of start to think in circles after a while."
Though seniors in studio art and graphic design alike agree that preparing for their shows has been challenging, they say that the experience has been even more rewarding.
"I'd absolutely say this show is the culmination of everything I've learned in this program," McLellan said. "It builds on itself constantly, and is one of those things where you can really never stop learning."
About the Contributor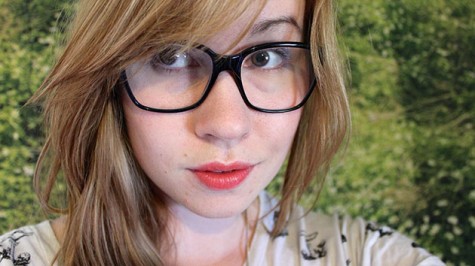 Alex Kennon, Managing Editor
Alex is a senior Theatre-Journalism hybrid major. Initially a staff writer, she has served as senior staff writer and is now managing editor at the Maroon....