Ed Neumeister comes to Loyola
Special guest artist makes an appearance for one night only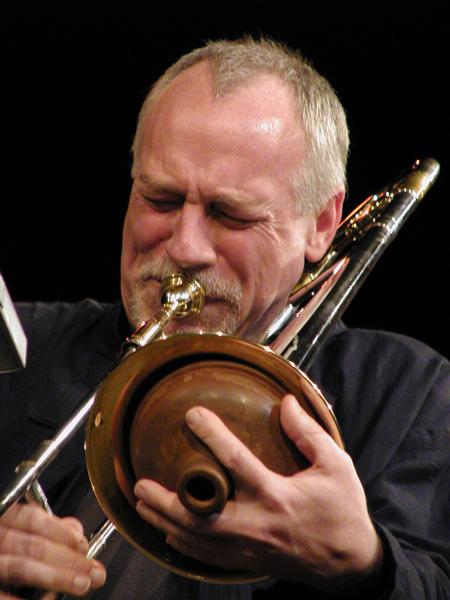 Kristen himmelberg Assistant Life and Times Editor
March 8, 2012
Hang on for a minute...we're trying to find some more stories you might like.
This weekend marks the 43rd Annual Loyola Jazz Festival, and this year the Loyola Jazz Band will be performing with world-famous trombonist and composer Ed Neumeister.
"It's one of the oldest, continuously-running festivals in the country," said John Mahoney professor of music coordinator of jazz studies.
Neumeister is the festival's featured artist. His career included performing with the Mel Lewis Big Band for 19 years and the Duke Ellington Orchestra for 15 years. He has been commissioned to compose pieces for bands and orchestras all over the world and has recorded seven albums as a leader.
"I have been very lucky to work with a lot of great musicians in my career. In my 20s I was playing with people like Frank Sinatra, Aretha Franklin and Jerry Garcia," Neumeister said.
Neumeister now teaches and said he offers students the opportunity to learn from his own experience and how he approached his professional career and life.
"My career has been blessed with being able to perform with important people," Neumeister said.
Wayne Mitchell, a three-year member of the Loyola Jazz Band and a jazz studies senior, said he is excited about having Neumeister as this year's guest artist.
"He is not only a great player but an incredible composer and arranger," he said.
Mahoney, who has been in charge of the festival since 1987, said that every year they rotate between instruments, and they bring in a guest artist to give some "glamour" to the festival. This year was a trombone year.
The festival, running from Friday, March 9 to Saturday, March 10, has educational components, and everything except for the headlining performance by Ed Neumeister, is free and open to the public. Participants include high school, middle school and junior college bands from across the country, Mahoney said.
"One of the best things about the jazz festival is that we are able to expose young players to high caliber music through the faculty jazz combo performance and the Loyola jazz band's performance with great guest artists like Ed Neumeister," Mitchell said.
Starting in the morning, each band has a chance to perform a half-hour set for adjudication. This means judges will take them aside afterward and give them constructive criticism on their performance and a clinic to improve their skills, Mahoney said.
"This provides the visiting students with a lot of valuable feedback as well as an opportunity to perform in a festival setting," Mitchell said.
At 12:30 p.m. each day there will be a free master class, which will be split up by section and taught by a professional musician specializing in that instrument, Mahoney said.
"The festival is open to all students, not just music students. I'm sure that students who enjoy good music will enjoy the festival," Mahoney said.
Friday's premiere performance will be at 4:30 p.m, hosted by the Loyola Faculty Jazz Band.
The festival will culminate with the Loyola Jazz Band's performance with featured artist Ed Neumeister at 4:30 p.m. on Saturday in the Louis J. Roussel performance hall.
Neumeister said that he was commissioned by John Mahoney to write a piece especially for the festival and the performance on Saturday will be the world premiere of this piece, "A Magical Place."
"A lot of my music is going to be played at the festival. It will be a great chance for me to hear my music being played and they will have the chance to play my music," Neumeister said.
Neumiester's visit is an important event to some music students
"I am definitely most excited for the Neumeister performance. We are going to play some incredible music with a really incredible musician," Mitchell said.
Tickets to this event will be $10 for general admission and $5 for students.
"The music we are preparing for this concert is some of the most challenging and interesting big- band arrangements I have ever played," Mitchell said. "I know the band is going to work very hard to make this music sound great."
Kristen Himmelberg can be reached at [email protected]