Student performs with fire
Student's hand-made fire poi sparked desire for burning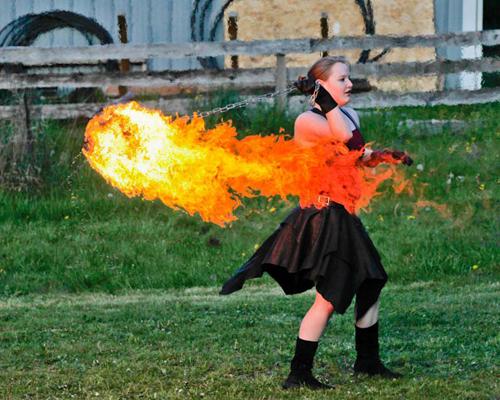 By SABLE LEFRERE Staff Writer
November 16, 2011
Move over, Usher. Mass communication sophomore Danielle Latimer knows how to let it burn.
"The more accurate term is fire spitting, but I think fire breathing sounds better," Latimer said.
Latimer is a practitioner of fire breathing, which is an act of creating a fireball by blowing a fine mist of fuel out of the mouth and over an open flame. She became interested in this art form after a friend recommended her to take a fire poi class back home in Seattle.
"I took the workshop, and I loved it," Latimer said. "I built my own fire poi (wicks made out of kevlar attached to 18-inch chains), and we were taught basic spins. I started going to practices, and I didn't stop. It evolved from there."
Latimer said she knew this was something she wanted to get into when she had her first experience with fire performance as a spectator at a fire reenactment festival at the age of 15.
"I remember turning to my mom and saying, 'I want to do that someday,' and four years later I got into it," Latimer said.
As one of the first fire breathers here on campus, Latimer is trying to find her scene. Since she arrived in New Orleans, she has burned twice, a term used to describe the act of performing or practicing. She has burned once at the Horseshoe and once in the
Academic Quad before it was
boarded up for construction.
New Orleans doesn't offer as many opportunities for fire breathing as Seattle since its burner community is smaller, but Latimer said she is not discouraged.
She said she was very pleased to attend the inaugural Burning Man Decompression Festival here in New Orleans, an informal afterparty held a few weeks after The Burning Man Festival held in Nevada.
"It was almost like a family reunion. It just felt more authentic. We came back from Burning Man so it was another reason to decompress," Latimer said.
Latimer, whose stage name is Thalia, has had some achievements added to her career
as a burner. With her troop from Seattle, she auditioned for "America's Got Talent." Though they didn't make it, she said she was happy for the experience.
To build to her career, Latimer said she wants to begin a fire troop on campus.
"I believe it would be the first fire troop at a Jesuit college," she said. "It's really easy to learn. Almost anyone can do it."
Latimer said that burning could be dangerous and has had a few minor accidents.
"I have a couple of scars. I singed hair, but it's no big deal," she said.
She said she hopes to speak with Risk Management to burn more often on campus.
"Back home, it's a big part of my social circle, so I like it for the social aspect," Latimer said. "It's also a great conversation starter, especially at Loyola."
Sable Lefrere can be reached