Students work to right immigration concerns
Loyola students are taking action in response to the recent wave of unaccompanied children immigrating into the U.S., causing what has now been dubbed "the border crisis."
The Loyola Immigration Advocacy Club and their advisor, Susan Weishar, have started a letter-writing campaign to the Louisiana Congressional delegation.  Project Leader Sabrina Hernandez said they are hoping that by receiving letters from college students, the congressmen will change their conversation on the current immigration policies.
"Most often they get letters saying 'my mom, my wife, my son, was deported,' but I feel that it's more powerful if we show that students care that these people are being deported even though we have no personal connection to them," Hernandez said.
Weishar said that the fact that letters are coming from Loyola students in particular may help their cause even more.
"As a Catholic and Jesuit institution, we are committed to forming well-educated women and men who embody a solidarity with the poor and vulnerable and a firm commitment to a faith that does justice," Weishar said.
Hernandez said they are hoping to get at least 100 signatures before they send the letters to the Congressional delegation, and specifically to Congressman Steve Scalise.
"We're hoping that if we show him that his constituents actually believe that there should be comprehensive immigration reform, that he'll promote it too," Hernandez said.
New Orleans is one of the top 10 cities in the country for undocumented, unaccompanied minors, according to Hiroko Kusuda, a New Orleans based immigration lawyer and expert. She said that there are currently over 1,200 children being prosecuted in immigration courts in New Orleans alone.
Monica Zengle, a leading member of the Loyola Immigration Advocacy Club, said the club is determined to stand up for these children, and hope their letters are a step in the right direction,
"America was built by immigrants, we are all immigrants, yet cannot welcome others into our country. Each person should be treated with dignity and respect, and the way people treat undocumented immigrants is not humane and it tears families apart," Zengle said.
About the Contributor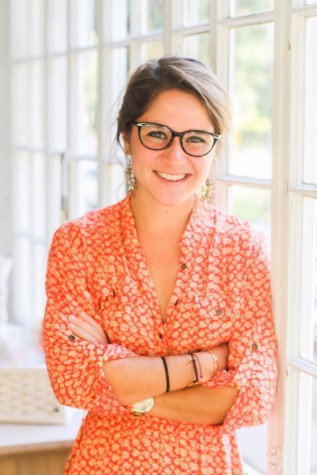 Linda Hexter, Photo Editor
Linda Hexter is a mathematics major with a minor in mass communications. Before becoming photo editor, Linda was senior staff photographer at the Maroon....