Volleyball team is ready to strike
As the volleyball season begins, members of the Wolf Pack are prioritizing change — with a new year, new coaches and a new mindset, the team said they are building on their strengths and letting go of any past negativity.
Newly hired coach Angela Franke and assistant coach Justin Barker said they have been prepping the team for what to expect when they play their first game of the season at the St. Thomas Tournament in Houston.
"We're overcoming the hurdles of whatever happened last year. I don't want them to revert back or get caught up in the negativity," Franke said.
"I want them to push forward and to not get down during tough times. I want them to have high spirits from start to finish. We're focused on staying positive."
Franke said she has been working on improving and developing both the girls' physical state and their mentality in order to provide better insight on how to achieve more wins.
Franke said the team is poised to have a great season for the Wolf Pack.
"My three seniors — Lauren Bram, Becca Burnett and Tiffany Walker — are huge leaders on the court," she said. "They have been instrumental of what they want the culture of this team to be this season. Really everyone — including my newcomers — have been stepping up."
Tiffany Walker, political science senior, said that their goals are set high and that they are practicing with only one thing in mind.
"We have one goal, and that is a conferene championship," Walker said.
Not only is the team expecting great work from seniors and returning players, but they said they are also expecting a lot of young talent, with freshmen players making up a majority of the team.
Though they have not played a game yet, the team said they believe they have the necessary talent and drive to push the team farther than ever this season.
"I think the big test is going to be when they step out onto the court and play with that first-game jitter of their college career with the crowd and all the lights," Franke said. "Right now if we mess up, we can start over, stop everything and get our direction. The game is so fast paced. I think they're going to step up and get their feet wet and be fine," Franke said.
The new coach and her team said they are ready to get this season started on the right foot and take what is to come head-on.
"I expect them to play hard, push themselves and rely on each other," Franke said. "I'm excited to see how we do in this conference. We hope to cause upsets and not be upset."
About the Contributor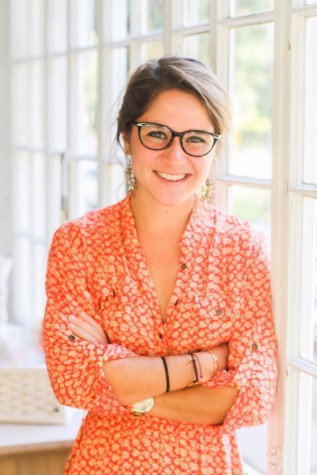 Linda Hexter, Photo Editor
Linda Hexter is a mathematics major with a minor in mass communications. Before becoming photo editor, Linda was senior staff photographer at the Maroon....