Smells like team spirit
Loyola's volleyball team is working together to overcome early season challenges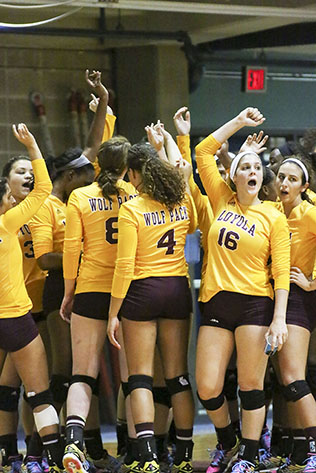 In their first home games of the season, Loyola's volleyball team faced a series of losses at the hands of Bethel University, Martin Methodist and Spring Hill University.
The games, which were played on Sept. 5, 6 and 9 at the Den, followed on the heels of the St. Thomas Tournament in Houston, which saw the women winning one game and losing another. This leaves the team with a 2-8 record going into their away game tonight, Sept. 12, against the College of Coastal Georgia.
The team is young, with eight of their 15 members enrolled as freshmen and sophomores. Many of them are still adapting to the world of college athletics, but the team is determined to keep their focus on winning. Upperclassmen are helping their younger team members to stay on track, according to Eva Allen, advertising junior.
"We are a young team and some of us are still getting acclimated to the tempo and pace of the game, but we're battling back," Allen said.
The team stands at 0-2 in their conference for the 2014 season, but despite the slow start, Head Coach Angela Franke is staying positive.
"We are looking for that surge of momentum in games to get us out of this slump. We need this to happen to start moving forward," Franke said.
The women are rallying together as a team to begin to gather the momentum Franke is looking for. Elizabeth Scioneaux, accounting freshmen, added that the team is ready and looking for a win.
"We're slowly making improvements, and we're pushing for more wins. We can do this," Scioneaux said.