Iggy Vols will spend summer abroad
Hang on for a minute...we're trying to find some more stories you might like.
While other Loyola students prepare for finals week, Katalina Mananghaya prepares to occupy her summer vacation with a month-long service in Dangriga, Belize.
"I initially wanted to be part of Ignacio Volunteers because I thought I had a lot to give," Mananghaya, political science sophomore, said.
A band of nine Ignacio Volunteers are going to serve in Jamaica May 11-20, while another group will serve in Belize from July 20 through August 11.
Diana Nguyen, biological sciences junior, attended the Jamaica winter trip in 2014 and said it was a worthwhile experience.
"Ignacio Volunteer is a program where we travel to Jamaica or Belize to learn more about their culture, work with those that are impoverished and challenged, and learn more about ourselves," Nguyen said.
Mananghaya said that her main motive in taking the trip is to learn from the experience.
"We will be running a summer camp with class in the morning and sports in the afternoon," Mananghaya said. "We are there to learn from one another and have fun together."
Heather Malveaux, coordinator of international immersion programs, regularly attends the Jamaica trips. She said that the students are enthusiastic about the upcoming trips.
"They have spent the entire semester learning about the countries they are traveling to, building community and fundraising," Malveaux said. "The goal of all Ignacio Volunteer programs are to learn and to serve. Volunteers learn about the political, social, economic and cultural conditions in each country, and they go to serve those that are of the greatest need-children and the elderly."
Malveaux said that there are spiritual aspects to the trips as well.
"I've witnessed students deepen their spirituality and their connection to God, their peers and the world on these trips," Malveaux said.
Mananghaya has prepared for her experience in Belize through studying Belizean culture and teaching methods with The Rev. Ted Dziak, S.J., vice president for Mission and Ministry and director of the Jesuit Center, and Joe Goddu, A'08.
"Our team has weekly meetings where we learn about the politics, culture and the land of Belize. We are also learning about how to be effective and efficient teachers, and it gives us time to bond as a team. Both Fr. Ted Dziak and Joe Goddu have been tremendous in the preparation process," Mananghaya said.
Nguyen said that she hopes that the summer volunteers love the experience as much as she did. She advises students to remain open-minded to all possibilities.
"It's best to not have expectations because you don't really know what's going to happen or what you might feel until you actually experience it," Nguyen said. "Immerse yourself into what you do and with your group to get the best experience that you can have."
Mananghaya said that, ultimately, she is excited for the experience.
"For me, the goal is to learn with a great bunch of kids, both the kids in Belize and our team from Loyola," Mananghaya said. "I'm sure my perspective will be more developed after the trip. I don't see this trip as giving up my summer. If anything, it's what I'm looking forward to the most."

About the Writer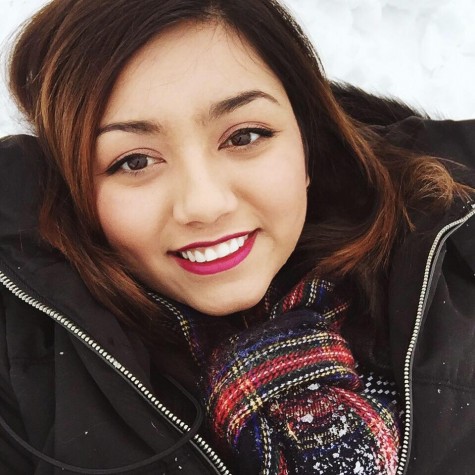 Skyllarr Trusty, Assistant Editor
Skyllarr Trusty is an English writing and biological sciences senior. She maintains several editorial positions as managing editor of ReVisions and assistant...