Interfaith celebration reconnects community with Earth
Loyola demonstrated that across faiths, the earth and the environment hold a special place of reverence in this year's celebration of Earth Day.
A spiritual service celebrating the environment was held as part of the Loyola Association of Students for Sustainability Earth Day event on Loyola's Peace Quad on April 22. The service included poetry, scripture, a Buddhist chant and a reading of excepts from Pope Francis's
"Laudato si'".
The first reading was of "God's Grandeur" by Gerard Manley Hopkins, read by Alex Pucciarelli, theatre sophomore, followed by "Woman and Nature" by Susan Griffith, read by Victoria Nachman, environmental studies sophomore.
Some readings, such as Nachman's reading of "Woman and Nature," related to humans' relationship to the environment in an obvious way, while others were not so direct. Rheyanna Lewis, psychology junior, read Genesis 1 and, while Lewis provided little of her own reasoning for choosing the chapter, many students seemed to appreciate the lack of interpretation.
"We just sat and listened and could make meaning for ourselves," Audrey O'Connell, design freshman, said. "I had never thought of the Bible in an environmental context, but when it was suggested to me I realized it really is a lot about the natural world, and how we should care for it."
Readings were followed by a Buddhist chant led by the Venerable Tsering Phuntsok. Students sat in the grass, eyes closed, listening to the rhythmic chant, accompanied by the occasional ringing of a bell. Lily Cordingley, mass communication freshman, described it as peaceful and slightly surreal.
This was followed by by environmental social justice sophomore Olivia Malone and Dr. Alcazar of Loyola's Religious Studies department jointly reading excerpts from Pope Francis's encyclical, "Laudato si'." The encyclical was an important step forward in the history of environmental justice, and Malone cites the encyclical when explaining why a connection between spirituality and the environment is important.
"I believe that in order to reconnect to ourselves, which I guess is what spirituality is in a sense, we must heal our connections to the earth," Malone said. "Pope Francis sums this up by saying, 'to commit a crime against the natural world is sin against ourselves and a sin against God.'"
The service was finished by a litany read by environmental studies freshman Anthony Rizzi. Rizzi, a co-organizer of the event, explained why he  thinks the environment is a uniting force among faiths.
"We are students of a Jesuit institution where faith is the foundation of our education and lifestyles," Rizzi said. "No matter what religion you are you still have a human connection to the earth."
After the service, university minister Ken Weber began a drum circle, which all who attended the service were welcomed to join. Organizers of the Earth Day event, Hope Clark, environmental studies sophomore, Colin Martin, environmental studies senior, Annie Vipond, environmental studies sophomore, and Anthony Rizzi say their goal is to spread environmental awareness and generate change at Loyola.
About the Contributor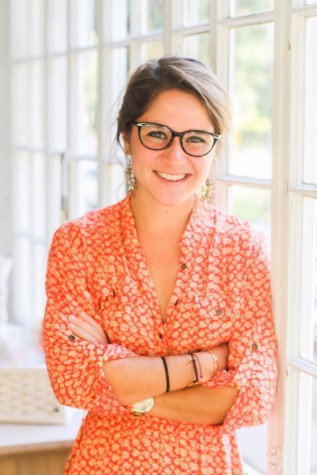 Linda Hexter, Photo Editor
Linda Hexter is a mathematics major with a minor in mass communications. Before becoming photo editor, Linda was senior staff photographer at the Maroon....