"Transition" show honors past and future fashion
About 230 sartorialists and francophiles flooded the St. Charles Room May 5 for a student-run fashion show replete with androgynous and gender-bending French styles.
The show, entitled Transition, sought to demonstrate gender fluidity in French fashion, as well as the cyclic nature of trends. It was organized by the honors French Fashion class and its professor, Jean Brager.
Students from the class managed publicity for the event, held model auditions, and styled five looks for each model. They worked with sponsors including the Loyola's honors program and the Department of Languages and Cultures, as well as the Francophilia Foundation and the Aveda Institute, which provided 32 hair and makeup artists for the show.
Brager said his original idea for a fashion show came from French historical figures including royalty and designers who bent gender constructs, as well as from Loyola students.
"Throughout our history, we have had people who have defied the social construct of gender," Brager said of his native France, citing Joan of Arc and Louis XIV as revolutionary examples.
The show also served as a tribute to Coco Chanel, Christian Dior and Yves Saint Laurent, French designers who pioneered diversity and feminism in fashion.
Brager also found inspiration on campus last semester in a student who would later take his French fashion course and model in the show.
"The idea of transition came to me, to speak the truth, when I saw William Birdsall who, at the time, was not my student but who was walking around campus with some sort of bias cut top that I thought was quite interesting. He would also wear a satchel; he would have some sort of makeup sometimes or eyeliner, and I thought that was very interesting because he did it in a very, I would say, muted manner," Brager said.
Birdsall, psychology junior, said that the fashion show was a physical demonstration of what he learned in Brager's class this semester.
"The interdisciplinary nature of the course was reflected in the theme of transition, which helped us capture the cyclic nature of French fashion history and allowed us to push the envelope of gender norms in a tradition similar to the great fashion designers Coco Chanel, Christian Dior and Yves Saint Laurent," Birdsall said.
Amanda Stedman, management sophomore, took the French Fashion course and modeled and styled for the show, sewing some of her own clothes.
"The show was exhilarating," Stedman said. "We were prepared, as we had all practiced walking a week or so before the show as well as the day of—though there's not really anything that can prepare a person for the chaos of backstage."
Stedman said that she worked the show's theme into her last outfit, which she described as "a modern reinterpretation of ultra-feminine clothing through the years," inspired by the 1700s Rococo period, the late 1800s and the 1950s.
Stedman's voluminous skirt included a butterfly pattern on the back, which she said was reminiscent of the fleeting movements of fashion.
Brager said that the theme of fashion as cyclic tied in with the Loyola community's struggle to reconcile with the recent losses it has faced.
"It was a way to honor the past as well as honor the future," Brager said.
About the Writer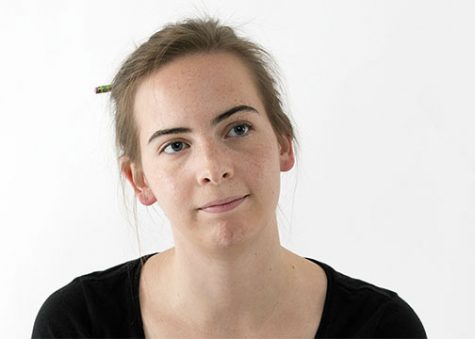 Colleen Dulle, Religion Editor
Colleen is a French and mass communication double-major with a concentration in journalism, minoring in Catholic studies and medieval studies.  Before...