Protesters fired up outside of Sen. Bill Cassidy's heated town hall meeting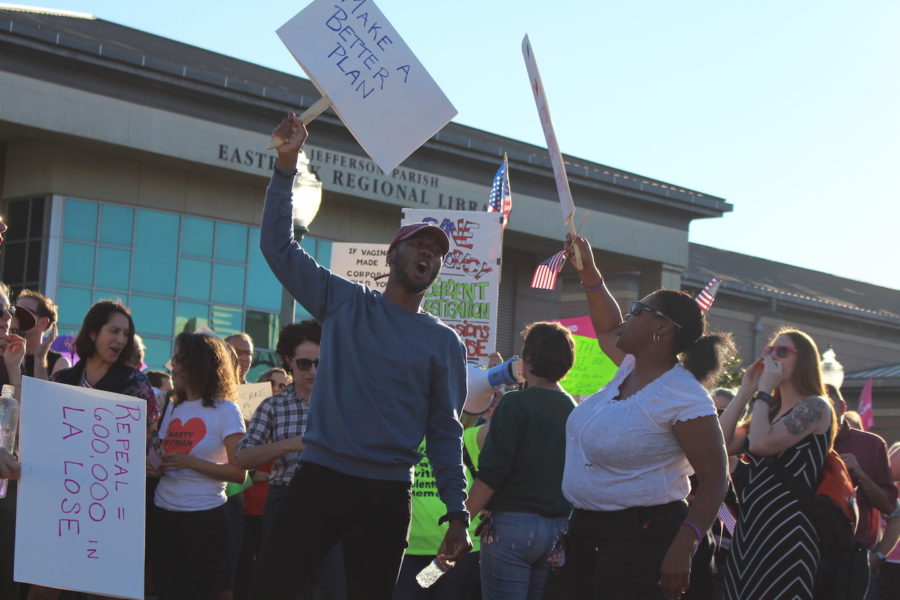 Updated 2/23/17 6:08 p.m.
Frustrated, angry and without a seat, Sen. Bill Cassidy's town hall meeting bubbled over into the streets as protesters gathered around outside to make sure their voices were heard.
Cassidy scheduled a town hall meeting yesterday inside East Jefferson Parish Library at 3:30 p.m. to have his constituents ask questions from anywhere about the dissolution of the Affordable Care Act to the possibility of Planned Parenthood being defunded.
However many locals were left without a seat at the table as the library only had space to fit 200 people. By 2:30 p.m., the venue was packed, leaving hundreds of people outside and police officers turning away cars from the parking lot.
Not discouraged, people began to chant and give testimonials as they waited for Cassidy to arrive. By 3:39 p.m., the crowd became restless when they learned that Cassidy was late. Cassidy arrived a little before 4:00 p.m.
Michelle Hanks of OurRevolution New Orleans, a political group that sprung from Sen. Bernie Sanders' presidential campaign, played a large role in the protest and led the crowd. She said gatherings like this need to happen for change to occur.
"I feel at this point with the administration, it's so overwhelming. All you can really do is get around with people and talk and actually have discourse to figure out a way to topple this," Hanks said. "There is no way we are going to over throw Trump, but we can do is change our local economy and government and state government. That means putting people in office and making them accountable."
Margie Ohner, a New Orleans local, said she had to come out and speak after she found out she had kidney cancer last year, and the Affordable Care Act helped her pay for her treatment.
"Thank God that I had that insurance," Ohner said. "Nobody realizes how much this means to us. I am cancer free today, and the cancer I have is treatable as long as I have the healthcare."
Cassidy has spoken against the Affordable Care Act; however, he, along with Sen. Susan Collins of Maine, are working on an ACA replacement called the "Patient Freedom Act." Cassidy said this new act would both make health care more affordable and cover more Americans.
Ohner said she just wants a healthcare system in place where she doesn't have to fear for her life.
"I am scared to death right now that I'm going to loose my insurance. We need a new system or universal healthcare, so people like me don't live scared to death at night."
The crowd quickly dissipated around 4:30 p.m. when the town hall meeting finished and Cassidy left the building.
Cassidy will hold one more town hall meeting tomorrow morning at 9:30 at the Breaux Bridge City Hall, 120 Berard St.
___________________________
Nearly over 200 people gathered in front of Jefferson Parish Library to protest outside of Sen. Bill Cassidy's town hall.
The crowd began to grow restless at 3:39 p.m. when word was given that Sen. Bill Cassidy was late to the town hall. Cassidy did not arrive until about 4:00 p.m.
From testimonials about how the Affordable Care Act helped them to discussing their fears and concerns about the future, protesters marched, sang songs and chanted with signs on Wednesday, Feb. 22, 2017.
About the Photographer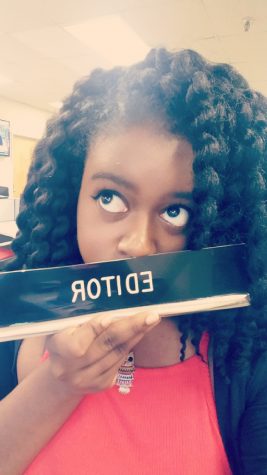 Starlight Williams, Editor-in-chief
Starlight is mass communication senior with a focus in journalism and a minor in legal studies. After serving as Assistant Life and Times Editor, Life...