Students express personal style through room decoration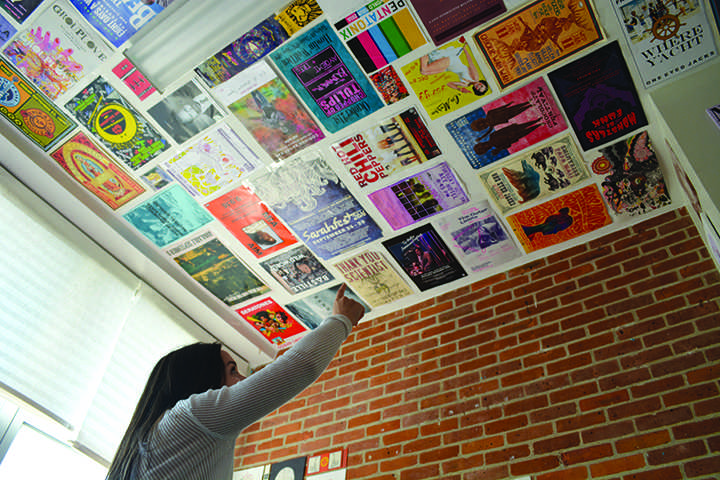 When Emmaline Bouchillon and Avery Cerniglia arrived on campus, they had never met in person or discussed any plans for the decoration of their room. They both came with their own design styles, hoping they would mesh well.
Bouchillon, general studies freshman, describes her personal style as a mix between dainty and rustic; while Cerniglia, studio arts freshman, leans toward a colorful, beachy, modern aesthetic.
"We didn't plan at all. We just decided to do our own thing, but it looks so good together, so we're happy with it," Cerniglia said.
Bouchillon agrees, happy that their differing styles flow together.
"I usually like more neutrals and she likes more color, but all our stuff goes really well together. I think that was a good indicator that our styles and personalities would flow really well together," Bouchillon added.
The room's most striking feature is the ceiling. The girls have covered the entire ceiling in concert, movie and event posters. From The Beatles to Ugly God and Buku to Sarahfest, the posters span a wide variety of entertainment tastes.
"We were laying in our beds, looking at the ceiling, and I said, 'We need posters on our ceiling.' So then we started collecting," Bouchillon said.
Along Cerniglia's side of the room, paintings depict palm trees, desert landscapes and other abstract scenes, with a single string of sea shells hung above the bed. The pillows, which are pastel orange, yellow and gray, add a beachy feel to her white bedspread, making it feel like home.
Bouchillon's personal design is exemplified by her simplistic pale pink bedspread accented with paintings above her bed. Under the paintings hangs a street sign, reading "One Way," given to her by one of her friends.
The room is tied together by a beige shag rug, a modern, chic take on the classic '70s staple. Bouchillon calls it her favorite part of the room and enjoys laying on it, despite the small strings getting everywhere.
"I think it's funny how much it sheds and how far the strings travel. It's become a big inside joke between all of our friends; if you ever see any beige strings lying around, odds are they're from the carpet in Room 640," Bouchillon says.
Two floors down in Biever Hall, Chris Cascio, music industry freshman, decorated his room in hopes of making it feel like home.
"I've got ambient lights and it looks very 'New Yorky,' like a New York lofthouse," Cascio said.
The free-hanging light bulbs, which string across the entire room are Cascio's favorite element of the room.
The rest of the room is minimally decorated, with statement pieces scattered throughout. A singular tambourine hangs next to a 1977 "Meter's" poster from Tipitina's. On top of the fridge sits a vintage record player paired with a vintage lamp. And scattered throughout the room are the roommates' multiple guitars and amps.
For most students, being away from home for the first time is sometimes scary or uncomfortable. But putting a personal touch on their new room allows a small dorm to feel like home.
About the Writer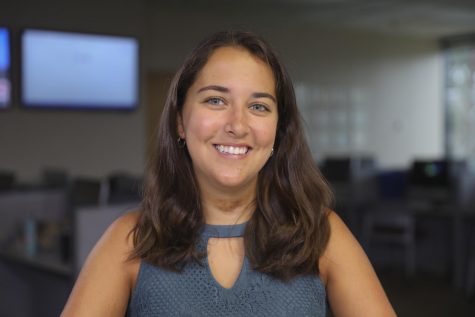 Erin Snodgrass, Editor-in-Chief
Erin Snodgrass, mass communication senior, is excited to be serving as Editor-in-Chief of the Loyola Maroon this semester. She has previously worked as...