Dziak prepares to return to Mission and Ministry
Hang on for a minute...we're trying to find some more stories you might like.
Loyola's Mission and Ministry is seeing a familiar face in the vice president position starting next semester.
The Rev. Ted Dziak, S.J., will be stepping in as interim vice president of Mission and Ministry after the current vice president, John Sebastian, leaves to fill a similar position at Loyola Marymount University.
Dziak had previously held the position for eight years, from 2007 to 2015. He said part of him felt honored when the Rev. Kevin Wildes, S.J., university president, asked him to help out by returning to the position for an interim period.
"I think it is a very important position because it deals with the mission of the school, sort of what we are as a Jesuit Catholic institution," Dziak said.
In his current role as university chaplain, a new role that he originated, Dziak said he serves as a sort of "chief spiritual officer," working to foster Ignatian spirituality. This year he also served as alumni chaplain, chaplain to the board of trustees and worked closely with athletics.
"It's kind of focusing more on the spirituality," Dziak said of his current duties, whereas, "the Mission and Ministry [role] focuses more on the larger issues of the head, the heart and the spirit, the academics, the student affairs and balancing out in a holistic way."
Dziak commented on some major changes Sebastian brought to the position in his two years as vice president. Sebastian developed an emphasis on working closely with faculty, as well as expanding staff under the Twomey Center for Peace and Justice.
"I think John has done a terrific job. He has really brought a new awareness to mission and different parts of the university," Dziak said.
Kurt Bindewald, director of University Ministry, is also sorry to see Sebastian go, noting that his not being a Jesuit brought a different perspective and excitement to the role and that the University Ministry staff was hoping to have him around longer than two years.
However, Bindewald said he is appreciative of the continuity that Dziak will provide while the university searches for a permanent vice president of Mission and Ministry, as well as a new provost.
"The great thing about Father Ted coming back in is that we know him, he knows us, so it's not going to be a huge change," Bindewald said.
The search for a permanent vice president will begin in the fall, and Dziak hopes to have someone chosen by the end of the fall semester, who will start the position in summer 2018. Both Dziak and Bindewald will be helping with the search, along with a group of faculty and staff.
Bindewald said he will be looking for a candidate who has a deep appreciation for Jesuit and Catholic core of ministry, as well as someone who is able to collaborate within University Ministry's tight knit staff.
As for Dziak, he hopes to return to his university chaplain role after the interim year is finished.
"If I do have a little time after I leave the VP position, I may take a little time for a sabbatical. That would be nice," Dziak said.

About the Writer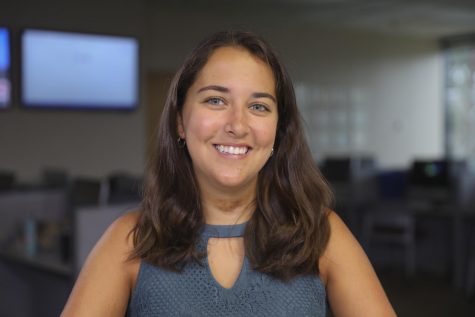 Erin Snodgrass, Editor-in-Chief
Erin Snodgrass, mass communication senior, is excited to be serving as Editor-in-Chief of the Loyola Maroon this semester. She has previously worked as...