Watch: Oak Street Po-Boy Festival draws thousands Uptown
Late clouds didn't stop the crowds to this year's Oak Street Po-Boy Festival on Sunday, where the celebration for the prized sandwich brought everyone in for another bite.
Nearly 40 vendors, four stages and a new wristband system for buying food and drinks highlighted this year's festival, with thousands — from Loyola students to mayoral candidates — showing up to try the latest variations of the beloved New Orleans sandwich.
"I'm enjoying the festival very much. I'm running for mayor so I'm yet to consume anything," said Desiree Charbonnet, New Orleans mayoral candidate. "I'm just trying to shake as many hands as I can as a proud Loyola graduate."
Oak Street saw heavy foot traffic for hours, despite a three-week wait for the festival after it was rescheduled from October to November due to weather.
Besides the sound of chewing, local performances like SOUL Brass Band and the Brass-a-holics provided the soundtrack for the day. Where Y'Art, the community arts organization, also partnered with the festival and had an area to buy local paintings, jewelry, illustrations and home decor.
There was also the traditional po-boy tasting competition, in which the over 35 participating food vendors were judged on things like traditional execution, creativity and flavor.
Simone's Market opened on Oak Street last December, and was a newcomer to the event. Their smoked fried chicken thigh po-boy took home "Best Poultry," and their "Leba-cajun" po-boy — using traditional Lebanese ingredients — won "Most Original."
"It's not as busy as in years past, but it's been a good crowd," said Simone Reggie, co-owner of the market.
The festival also partnered with Son of a Saint, a local non-profit organization that helps boys who have lost their fathers. 20 percent of each sale from participating food vendors went to the organization.
"It's been great," said Jacob Robinson, a volunteer with Son of a Saint. "We have six different areas where we've been selling wristbands and collecting donations, and I think the blue team's winning."
Robinson's referring to the volunteer's friendly fundraising competition. The festival receives no public funding, and instead partners with sponsors and organizations on the local and national level. All sales go back to the vendors and those organizations.
As for the first-year using a wristband system at the festival, the change did not seem cause for anyone to let their stomach catch up to their eyes.
"It was confusing for a minute at first, but it's been awesome, and it's
for a good cause," said Kayla Mims, Loyola senior.
About the Writer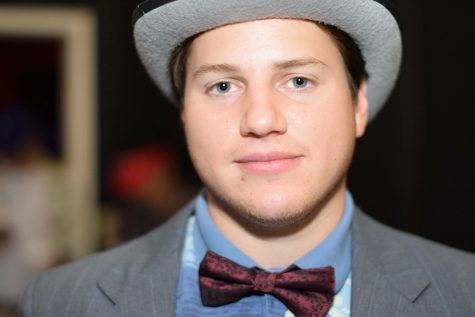 Seán Brennan, Opinion and Editorial Editor
Seán Brennan is a junior at Loyola pursuing his degree in mass communication. Besides acting as the opinion editor for The Maroon, he is also a writing...