SGA sets highest fundraising goal ever for third annual Dance Marathon
Hips aren't going to be the only things shaking up at this year's Dance Marathon.
The Student Government Association has set its fundraising goal for its third annual Dance Marathon higher than ever before at $30,000. Last year's marathon won the Magis Award for Best On Campus Event, and this year the SGA is determined to build off that success.
Blane Mader, executive vice president of the SGA, explained his excitement for the fundraising campaign.
"What was really crazy about last year was we made it to $25,000, which was a huge deal for us because our original goal was $10,000," Mader said.
Learning from the first Dance Marathon two years ago, Loyola worked hard to increase donations last year and succeeded more than anticipated.
"The year before we only raised $3,000. We were the number one increased Dance Marathon campaign in the nation. I'm just really excited to see what we can do this year from what we learned last year," Mader continued.
Through fundraising events with restaurants like Chipotle and Blaze Pizza, donation contributions of community members and direct donations from students signing up for the event, Dance Marathon raises money for Children's Miracle Network Hospitals.
The proceeds of the university's event will go to the Children's Hospital of New Orleans, an organization that is close to campus and the hearts of many Loyola students, including Mader.
"I have very serious asthma and I've been in and out of Children's Miracle Network Hospitals my entire life. My mother used to work at one in Atlanta, Georgia, so the event has always been kind of close to home for me. Going to the hospital last year, filming and meeting some of these children and having our Miracle child last year come to the event and seeing how much it meant to her, I realized how big of a difference we are making," Mader said.
Amy Watkins, marketing senior and last year's executive director of the event, emphasized the service and advocacy Dance Marathon represents.
"Dance Marathon is not just a fundraiser, it's a nationwide movement involving college and high school students at more than 150 schools across the country all raising money for their local Children's Miracle Network Hospital. Dance Marathon is about our generation fighting for the next. No kid ever asked to be sick or spend their childhood in a hospital," she said.
Watkins said Dance Marathon means much more than raising money for children in hospitals to not only those participating, but also the children receiving the donations.
"Dance Marathon means hope. Hope that these kids will be able to get the treatment they need. We dance for a day to give hope for a lifetime. Overall, I am forever grateful to be a part of Loyola's Dance Marathon. Everything we did, we did for the kids, and we're just getting started," Watkins said.
The marathon will take place on April 7 from 6 p.m. to 12 a.m.
Students interested in getting involved with Dance Marathon can sign up here: http://bit.ly/2AoeGzk!
About the Writer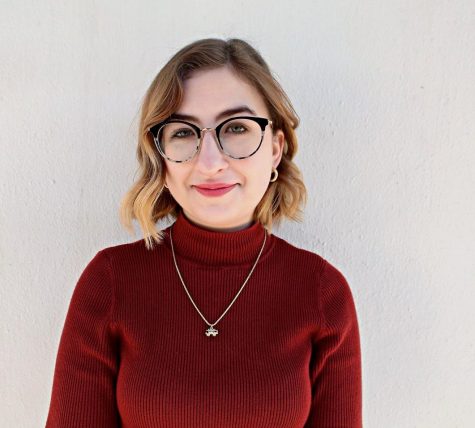 Rose Wagner, Editor-in-Chief
Rose Wagner is a senior journalism and political science double major from the suburbs of Minneapolis, Minnesota. This is her second semester as editor-in-chief...