Climate survey results released
Nearly two-thirds of the professionals at Loyola have thought about leaving, as have about a third of undergraduates, but that doesn't mean the school is unwelcoming, according to a study unveiled this week.
The study, called the Campus Climate Assessment, showed that the majority of respondents feel valued and "comfortable" with the current climate at Loyola despite having their concerns.
Rankin and Associates researcher Emil Cunningham presented the results of Loyola's communitywide Campus Climate Assessment during a town hall on Tuesday, April 3.
The 111 question survey collected data on the current perspectives, standards and behaviors of students, staff and faculty at Loyola, and 29 percent of the Loyola community submitted responses, falling one percentage point below Rankin and Associate's goal for data generalization. In addition, the consulting agency did not release anecdotes or answers given by groups of five or fewer people in order to maintain the anonymity of respondents.
The survey revealed that 72 percent of respondents felt "comfortable" or "very comfortable" with the overall climate of Loyola. The majority of faculty also reported feeling valued by their respective departments and the majority of students noted feeling valued by faculty.
But the survey revealed more than the positive aspects of life at Loyola.
"Did you answer the way Loyola was hoping you would answer?" Cunningham said. "Yeah, that didn't happen. Y'all were honest."
Of undergraduate respondents, 37 percent said they have considered leaving Loyola. This statistic is about 7 percent higher than average, according to Cunningham, and the majority of these students reported lacking a sense of belonging as their main concern.
On the same note, 64 percent of faculty and 65 percent of staff said they have considered leaving Loyola. The number one reason for this consideration among faculty was not their salaries, as Cunningham expected, but institutional instability or "what many respondents called the 'sinking ship' nature of Loyola," according to the official survey summary.
When asked about this finding, David Borofsky, interim provost and chief operating officer, said that retention, both of students and of professional staff, is a critical issue.
"The responses you note reflect what the university has gone through over the past five years – and while they are revealing, they are not entirely a surprise," Borofsky said. "We all know the challenges we have faced, and as a university, we have been both transparent and open about those challenges."
The survey offers an opportunity to reflect on and change the aspects of Loyola that isolate community members, according to Cunningham.
Across all demographics, 23 percent of respondents reported having experienced hostile conduct or harassment at Loyola. For undergraduate students, this was reported to mainly take the form of exclusion by other students within the classroom. Of those who reported experiencing forms of harassment or victimization, 21 percent noted feeling somewhat responsible and only 18 percent contacted a Loyola resource.
Celeste Lavelle, sociology junior, attended the town hall and emphasized that these results contradict Loyola's mission.
"If we're going to be a school that boasts diversity and inclusion then we need to make sure our students, faculty and staff actually feel included and cared for," Lavelle said.
Black and African-American undergraduate students also reported less perceived academic success than their white counterparts, and undergraduate students with multiple disabilities reported less perceived academic success than their peers with no disabilities.
Cunningham noted that awareness of harassment and institutional inequalities is key.
"If you don't call it what it is, ageism, sexism, racism, homophobia," Cunningham said, "then we are not doing justice to those who are pouring their hearts out in surveys like this."
The survey also revealed that 16 percent of all respondents had experienced some form of unwanted sexual conduct, with 6 percent having experienced "unwanted sexual contact," defined as rape or sexual assault. Cunningham referred to Loyola as an outlier in this regard, as the average Rankin and Associates survey finds reports of unwanted sexual contact — rape or sexual assault — ranging between 3 and 4 percent, according to Cunningham.
The majority of students surveyed who had experienced sexual assault while at Loyola experienced it during the first semester of their first year, with Cunningham stating that anecdotes about Biever Hall "came up multiple times during the survey as an area of concern" with regards to this and other topics.
Additionally, only 19 percent of these students contacted a university resource after the unwanted contact, while 71 percent told a friend.
"The primary rationale cited for not reporting these incidents was that respondents expected a poor response from Loyola," according to the official survey summary.
Peer education about sexual assault and support is critical according to Cunningham, as friends are the main resource these students are turning to.
"If we hide behind this notion that 'it's happening outside' and 'we're okay because we're a bubble here,' then we're not doing justice for folks who need to identify a resource," Cunningham said. "Things that happen outside happen here."
In response to the release of the results, the university held listening sessions for faculty and staff on April 4 and one on April 5 for students. For those that missed the presentation, the survey summary is available online for all Loyola community members to access.
The university held these sessions and has made the data available in order to develop plans of action in response to the survey results.
"We're committed to developing and initiating at least three actions in the next year," Chief Diversity Officer Sybol Anderson said. "We have purposefully not begun to identify next steps until now because we want to do this together as a community."
About the Writer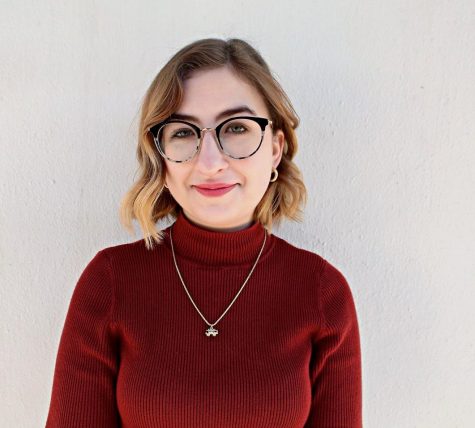 Rose Wagner, Editor-in-Chief
Rose Wagner is a senior journalism and political science double major from the suburbs of Minneapolis, Minnesota. This is her second semester as editor-in-chief...